more news
'The Chair' gets Directors Guild nomination
Thursday, January 15, 2015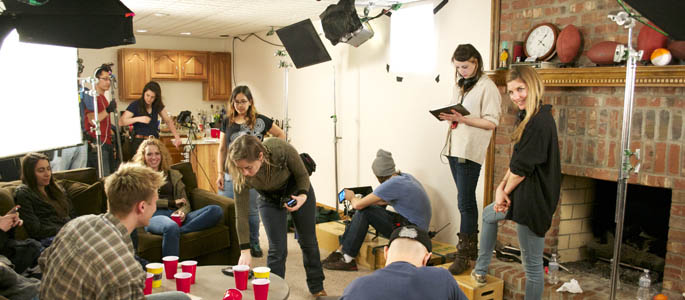 Filmmaker Anna Martemucci (far right) on the set of 'Hollidaysburg,' one of two films featured in the 'The Chair.'
The Point Park University-produced documentary series, "The Chair," which aired last year on Starz, has received a Directors Guild of America nomination.

Click slideshow for larger images.
The DGA nominated director Anthony B. Sacco for Outstanding Directorial Achievement in Reality Programs for 2014. He was nominated for the episode titled, "The Test." The awards will be handed out Feb. 7.
Created by veteran Hollywood producer Chris Moore, "The Chair" is a Starz original filmmaking experiment that followed two first-time directors, Shane Dawson and Anna Martemucci, as they competed to make two separate feature films from the same script.
"The Chair" documented the creation, marketing and theatrical release of both films - "Hollidaysburg" directed by Martemucci, who grew up in State College and attended Penn State, and "Not Cool," directed by Dawson.
More than 100 Point Park students and alumni from a variety of majors supported the TV series and two feature films as interns, employees, and through class projects.
Additionally, production offices were located on Point Park University's campus in Downtown Pittsburgh.
"The Chair" is also produced by Pittsburgh native and renowned actor, Zachary Quinto, and his production company, Before the Door Pictures.
Video Playlist: "The Chair" Project
Related Links
Point Park is Home to 'The Chair'
Conservatory of Performing Arts
Audition and Interview Process
Apply Online
More About: Conservatory of Performing Arts, The Chair, cinema production, cinema arts