more news
The REP stages world premiere of 'Confluence of Dreaming'
Friday, May 28, 2010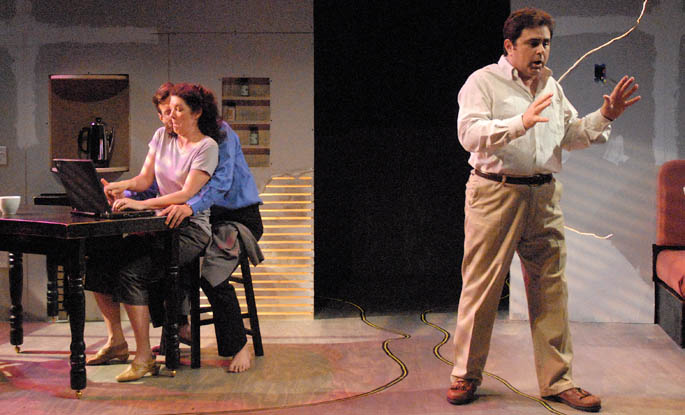 Above: The cast of The REP's A Confluence of Dreaming at the Pittsburgh Playhouse includes Robert Turano, right, Bridget Connors and Sam Turich. Below: Point Park senior Connie Castanzo, shown with Turano and Connors, debuts with The REP playing daughter Morgan.
Point Park University's professional theatre company, The REP, closes its 2009-2010 season with a world premiere, A Confluence of Dreaming, written by Tammy Ryan and directed by John Amplas, from May 28-June 13, 2010.
Amplas, associate professor in the Conservatory of Performing Arts, is a founding member of The REP, as well as its associate artistic director.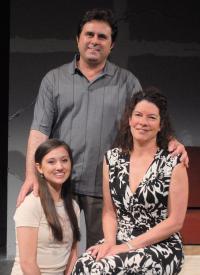 A Confluence of Dreaming is a story for the digital age. The play tells the story of Carol, an underappreciated and seemingly invisible suburban homemaker who finds herself wondering what's happened to her life. She rediscovers long-lost thrill and passion in the secret, sexy world of cyberspace. Taking place in Pittsburgh during the summer of 2001, Carol solicits a face-to-face meeting with her online lover in New York City. When fantasy collides with reality in his studio apartment, Carol confronts the choices she's made against the desires she has suppressed in the quest for self-fulfillment.
The cast of four includes Bridget Connors as Carol, Robert Turano as Peter/Restaurant Owner, Sam Turich as Ted, and Point Park senior Connie Castanzo as Morgan/Waitress. Scenic design is by Stephanie Mayer-Staley; costume design is by Michael Montgomery; lighting design is by Andrew David Ostrowski; sound design is by Steve Shapiro; and video design is by Jessi Sedon.
Performances are Thursdays through Saturdays at 8 p.m. and Saturdays and Sundays at 2 p.m.
Ticket prices range in price from $24 to $27, with special rates available to Point Park faculty, staff and students. To purchase tickets or for more information, contact the Pittsburgh Playhouse box office at 412-621-4445 or online at pittsburghplayhouse.com.
Photos by Drew Yenchak