more news
The REP stages world premiere of 'Mid-Strut'
Thursday, February 9, 2012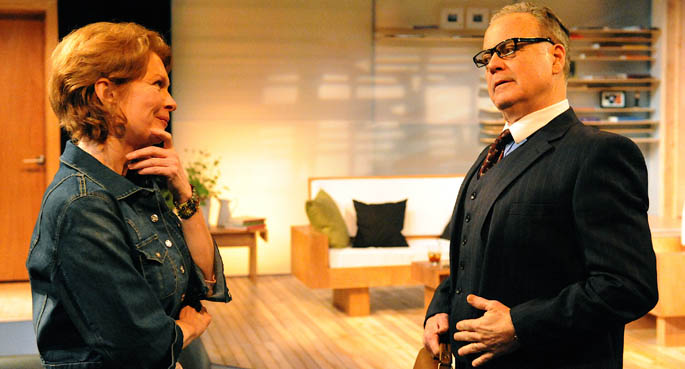 The REP, Point Park University's professional theatre company, presents the world premiere of Mid-Strut at the Pittsburgh Playhouse Feb. 3-19. Mid-Strut is written by Eric Burns and directed by Ronald Allan-Lindblom, associate vice president and artistic director for the Conservatory of Performing Arts.
Facing the devastating news that her longtime husband, Jack McGruder, has had an affair, Wendy finds herself at a crossroads when she receives an unexpected blast from her past. It seems an admirer from her baton-twirling glory days three decades earlier seeks to once and for all kindle his unrequited love. Also named Jack, this charming man sweeps the former majorette off her feet and offers Wendy a welcome distraction in her life just as her husband has broken her heart. Funny, real and poignant, Eric Burns' world-premiere play strikes a very human chord.
"The title refers to the way in which the main character remembers this idealized girl from his youth (who was a majorette and therefore was often seen in "mid-strut")," says Phil Winters, an assistant professor of theatre at Point Park, who plays Paul Hodges. "But I think it also refers to the way in which the main character is suddenly confronted, in what we would consider to be middle age, with the realization that life does not just go on, but that in fact one's life may be interrupted or ended without warning, before one has had a chance to 'wrap things up.'"
"Follow your impulses, follow your dreams. I think that this has less to do with my character but, in a weird way, my character discovers himself in the play. So many times we don't follow our impulses in life and this play encourages us to do that," said John Shepard, associate professor of theatre at Point Park, who plays the husband Jack McGruder. He describes his character as "a guy who has screwed up big time. He is an accountant who is unhappy with his job. He has put his relationship with his wife and daughter in jeopardy and must suffer the consequences."
Former students of Point Park University, Maggie Carr and Quinn Shannon, come together with current instructors, John Shepard and Phil Winters in this production.
"One of the things I love about our Conservatory program, I always thought of it as an apprenticeship program. Students learn the trade," said Shepard on working with his past students. "Working professionals teaching future working professionals. Makes perfect sense to me."
Article by Tess DeStefano, sophomore acting major