more news
The REP's 'La Ronde' offers M.F.A. students chance to shine
Tuesday, October 12, 2010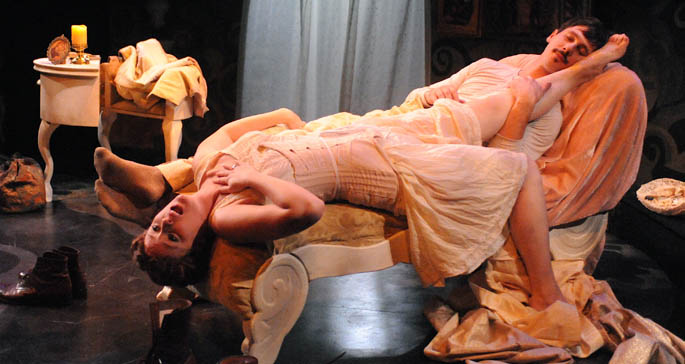 A scene from The REP's production ofLa Ronde.
The REP, Point Park University's professional theatre company, is presenting Arthur Schnitzler's once highly controversial La Ronde as part of its 2010-2011 season. For this year's graduating class of M.F.A. in acting students, La Ronde has offered several of them an opportunity to grow and develop as performing artists.
When La Ronde was first published in 1903, it was immediately banned for its shocking content. Schnitzler's witty 10 scenes are a sexual merry-go-round in turn-of-the-century Vienna, a bit of voyeurism on unlikely couplings. Opening in a park with a prostitute and soldier, the erotic romp then introduces the soldier with the housemaid. Which unfolds to the encounter of the housemaid and the young gentleman and after that, the young gentleman's frolic with the married woman. And so it goes until we come full circle to the brothel, home to the very first character we meet. More than a century old, La Ronde is still a timely provocative exploration of our fascination with sex.
"The play looks at human behavior as it relates to sex - how our public personas usually cannot withstand the truth about our sexual lives," said director Robin Walsh.
In addition to being the director of La Ronde, Walsh is also the director of the M.F.A. in acting program. This REP cast includes four M.F.A. students: Robyne Parrish (Actress), Gab Cody (Prostitute), Christopher Spare (Count) and Rita Reis (Young Woman).
"Having the opportunity to perform in La Ronde gives me a chance to put into practice in a supportive environment all of the work I've done here in the M.F.A. in acting program," said Cody.
As the University's professional theatre company, The REP aims to develop provocative new plays and present edgy and inspired interpretations of the classics while serving as a one-of-a-kind laboratory for artists.
"The REP has allowed me to explore new levels of performance," said Parrish.
But the M.F.A. students don't just work on their performance skills. The program also prepares its students to be able to teach at a university level.
"Point Park University has given me space to grow as an actor and an academic," said Parrish. "It is very difficult to find this combination in any other program."
The goal of the M.F.A. program is to produce well-rounded artistic professionals who are knowledgeable and experienced in performance and pedagogy. The curriculum also includes a self-study program so students can select an area of their own interest that they can concentrate on.
"Our M.F.A. is geared toward professional actors who want to return to school to primarily to be able to teach in a University setting, but also to explore creative options on how to develop the skills they've learned over the years," said Walsh. "They are a savvy, creative group from all over the country, including one from Luxembourg, and bring great experience to the Conservatory."
The M.F.A. program will be auditioning students over the next several months for the incoming 2011 class. Learn more about the M.F.A. program and how to apply.