more news
Theatre Alumni, Faculty and Student Showing Off in a Grand Way in CLO Cabaret
Monday, January 7, 2013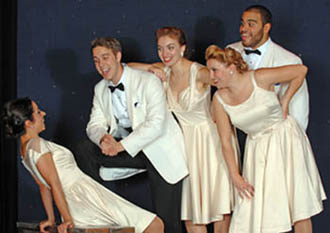 Pictured from left: Kristiann Menotiades, John Wascavage,
Katie Oxman, Bre Pursell and Paul-Jordan Jansen.

Pittsburgh CLO Cabaret's production of A Grand Night for Singing features Conservatory of Performing Arts alumni, faculty and a student.
Directed by Assistant Professor Jack Allison and choreographed by Associate Professor Kiesha Lalama, the show cast theatre alumni Bre Pursell ('11), John Wascavage ('10), Kristiann Menotiades ('03) and senior musical theatre major Katie Oxman.
Oxman said one of the reasons she chose to attend Point Park was because it is within walking distance to the Pittsburgh Cultural District.
"It's great to be able to land a role in a performance at one of the Cultural District venues and still make it to class in the morning," said Oxman.
A Grand Night for Singing runs through Jan. 20 at the CLO Cabaret. Tickets can be purchased online at www.pittsburghclo.org.
Learn more
Point Park's theatre program combines hands-on experience and rigorous training with internationally recognized master teachers, directors and choreographers. Learn more about auditioning for the program.
Article by Kayleigh Smith, junior public relations and advertising major
Photo by Matt Polk