more news
Theatre and Forensic Science Classes Collaborate on Mock Crime Scene Project
Thursday, March 28, 2013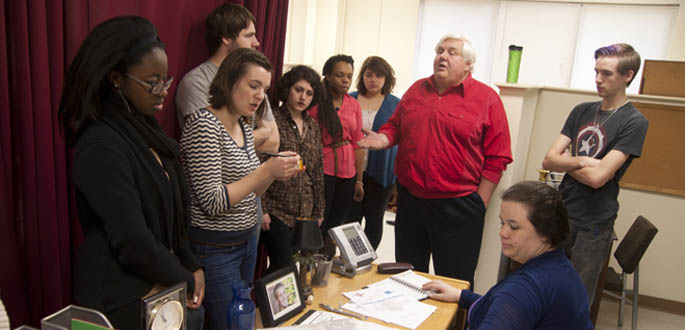 Professors Santina Moran-Seaborne and Ed Strimlan, M.D., meet with technical theatre/design students in the Introduction to Stage Properties class to discuss the creation of their mock crime scenes.

Technical theatre/design students applied their creative stage-setting skills off stage in Point Park University's crime scene investigation house.
Students in the Introduction to Stage Properties class collaborated with forensic science students in the Development of the Death Investigation System course to create and process a mock crime scene on campus. The courses are taught by Santina Moran-Seaborne, COPA adjunct faculty member and assistant properties master of the Pittsburgh Playhouse, and Ed Strimlan, M.D., assistant professor and coordinator of the forensic science program.
---
Related links
Technical Theatre/Design Program
Forensic Science Program
Schedule a Campus Visit
Apply Online Now
"This is a great lesson for collaboration. Many of the projects we do are small group or individual projects, but this assignment is a whole class endeavor," said Moran-Seaborne. "The students had to decide as a group how to incorporate their ideas into a cohesive and believable crime."
The hands-on assignment was divided into three weeks:
Week one: Theatre students evaluated the CSI house and were given an overview about typical crime scenes from Professor Strimlan. The students drafted a props list to create scenes for a bedroom, living room and an office.

Week two: Theatre students returned to the CSI house to set up the mock scenes using hand props (anything an actor uses/has direct contact with), set props (larger or more permanent fixtures) and set dressing (what fills in the stage and makes it believably lived in).

Week three: Forensic science students processed the crime scenes.
"Theatre students have a different point of view other than pure science and are experts at thinking outside the box," said Strimlan. "They added nuances to the crime scenes that we may not have thought to add."
Kimberly Schlieper, a junior majoring in forensic science, said that she approached her analysis of the crime scenes differently.
"Working on the crime scenes designed by students in other majors allows us to be more creative since the scene is more creative."
Sophomore stage management major Layden Jenson-Bunch shared one of the most important lessons he learned from this assignment.
"As a stage manager, attention to detail is very important," he said. "Working on this project helped to sharpen my skills of paying attention to detail. Every piece matters, where it is placed and how it fits into the grand scheme of things."