more news
Transfer Student Designs Wigs, Makeup, Special Effects Prosthetics for 'Into the Woods'
Tuesday, December 22, 2015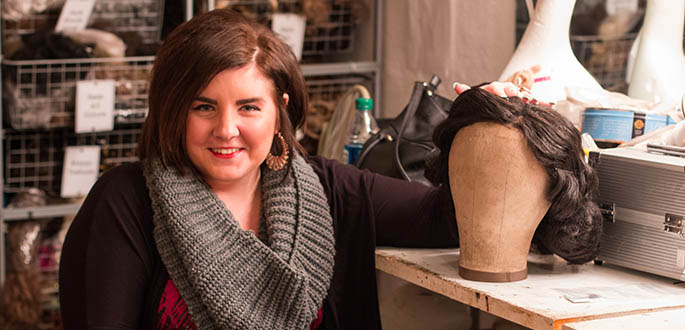 Meet Transfer Student Courtney Dilla
Role: Wig/Hair and Makeup Designer
Conservatory Theatre Production: Into the Woods, directed by Zeva Barzell, associate professor of theatre
Degree pursuing: B.F.A. in theatre production (design), May 2016
Hometown: Oakdale, Pa.
High school: The Pennsylvania Cyber Charter School
Tell us about your role and how you were selected for it?
I designed the wigs/hair, makeup and special effects prosthetics for the witch and the wolf characters. I was selected because of my past experience in special effects makeup and doing wigs and makeup at the Pittsburgh Playhouse. My supervisors at the playhouse thought I would be the perfect fit because of my determination and eye for detail.
What challenges did you face and how did you overcome them?
Every aspect of the work I did for Into the Woods was a challenge, but that's part of the learning experience. For example, when making the witch's prosthetic, my mold got stuck and I had to chisel and pry it out. I thought the mold was ruined, which meant that I would have had to start from scratch. After about an hour, I finally got the mold open and was able to successfully make the prosthetic.
How has your Point Park experience prepared you for this role?
Point Park taught me everything I needed to know about theatre and how to work in this field. Before I transferred to Point Park from The Art Institute of Pittsburgh, I didn't even know what stage right and stage left meant. Without Point Park, I would be completely clueless about theatre.
Why did you transfer to Point Park?
I wanted to combine my knowledge of special effects makeup that I learned at The Art Institute with theatre. I've been seeing shows since I was a little girl and wanted to broaden my horizons.
What excites you the most about being a design major at Point Park?
I really do love everything about being a design major at Point Park; every day excites me! Being able to put what is in my head into an actual performance is both unreal and fascinating to me. I love picking out hair and makeup color schemes, styling wigs, sculpting prosthetics, and teaching actors how to do their hair and makeup. The thing that I love most about designing is putting it all together on the actor and seeing their character come to life. I also love when actors get excited about my work and can't wait to get on stage.
Anything else you would like to add?
I'm very thankful and honored to have had this design opportunity for Into the Woods. I would like to thank everyone who has ever believed in me. And to all prospective Point Park students, make sure to be very passionate about what you want to do. It's okay to make mistakes - because there will be some - but it's all a part of the learning experience.
Article by Kristopher Chandler, a freshman screenwriting major
Lead photo by Victoria A. Mikula, a junior mass communication major
More About: Pittsburgh Playhouse, design, The Pennsylvania Cyber Charter School, Conservatory Theatre Company, transfer, theatre production, Conservatory of Performing Arts