more news
University-Produced Reality Series "The Chair" Debuts in Pittsburgh
Friday, September 5, 2014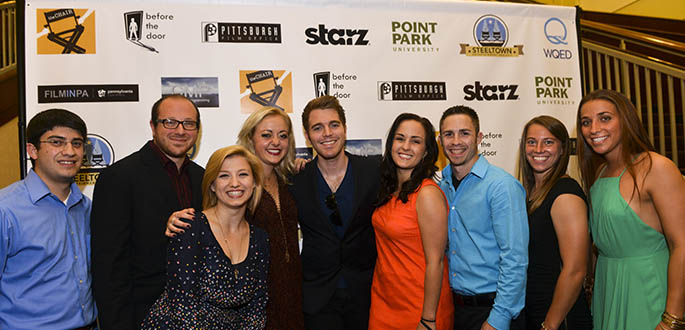 Students and alumni that worked on 'The Chair' with Shane Dawson (center), one of the two directors of the series.
Photo Gallery
---
Related Links
Conservatory of Performing Arts
Cinema Arts Program
Request Information
Students, alumni and faculty lined the red carpet at SouthSide Works Cinema on Sept. 4 for the world premiere of "The Chair," a Point Park University-produced documentary series that follows two up-and-coming directors as they compete to make the best feature film using the same script.
Produced by veteran Hollywood producer Chris Moore and Pittsburgh native and renowned actor Zachary Quinto, "The Chair" airs Sept. 6 at 10 p.m. on Starz as the channel's first original unscripted series.
"We worked on this project with more than 75 Point Park students and alumni that were trained to handle the professional environment we were working in," said Moore. "I was blown away by their energy, excitement and interest. Pittsburgh really rose to the occasion for 'The Chair."'
Before the premiere, guests had the opportunity to mingle in the lobby and take pictures with celebrities from the show.
The crowd then packed three theaters with popcorn and soft drinks in hand to get a first look at two episodes in the series. Point Park students and alumni cast in the show laughed and cheered as they watched themselves on the big screen.
Watch the 10-episode series this fall on Starz or online at www.starz.com/originals/thechair/.
In the News
Video: 'The Chair' Trailer
More About: cinema arts, Pittsburgh, The Chair