more news
Women in Film and Media Awards Scholarships to Mina Hoffman and Hannah Snyder
Tuesday, May 5, 2015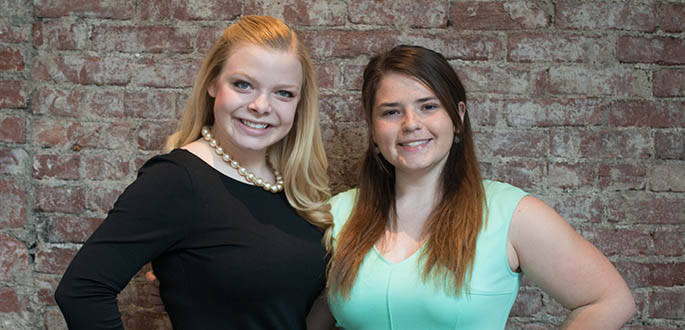 Pictured are cinema production majors Mina Hoffman and Hannah Snyder.
Point Park freshmen Mina Hoffman and Hannah Snyder - who are majoring in cinema production - are the recipients of scholarships awarded by Women in Film and Media Pittsburgh.
Photo Gallery
---
Learn More
Request Information
Apply Online
Each year, WIFM presents scholarships to female students enrolled in a cinema program. Hoffman and Snyder submitted applications, resumes and cover letters, and responded to questions about their interest in the industry and their career goals. After a review by a scholarship committee, Hoffman was selected to receive the Point Park University scholarship ($2,500) and Snyder was selected to receive the Amy Lamb scholarship ($1,000).

Hoffman and Snyder were presented their scholarships at the annual Opal Awards, held April 27, at Hundred Wood restaurant on Point Park's campus. Learn more about the students below.
Why did you choose Point Park to study cinema production?
I chose Point Park because they take the arts seriously. I knew I wanted to go to a small school that focused on the individual student and their artistic vision. I absolutely love going to school in Downtown Pittsburgh! - Mina Hoffman
What's it like studying cinema production in Downtown Pittsburgh?
During my first year at Point Park, I have already worked on multiple films and am finishing up an internship at New Perspective Communications located in the Strip District, a short walk from campus. These opportunities have already helped me make so many connections and have opened up so many doors for future opportunities. - Hannah Snyder
Describe the cinema arts professors.
My professors in the cinema arts program are truly top notch. They challenge you but make sure you know how to reach the top of the mountain. - Mina Hoffman
What are your career goals?
My career goals include working as a producer/director for narrative television and major motion pictures. I would love to see the film industry in Pittsburgh continue to grow, and hopefully one day be able to produce a television show for prime-time TV in Pittsburgh. - Hannah Snyder
Right now, I'm looking into directing and producing either TV or film; I'm in love with both! - Mina Hoffman

Photos by Victoria A. Mikula, sophomore photojournalism major

More About: cinema arts, scholarships, cinema production