more news
Wynton Marsalis Septet Ushers in a Return to In-Person, Live Performances at Point Park University's Pittsburgh Playhouse
Tuesday, May 18, 2021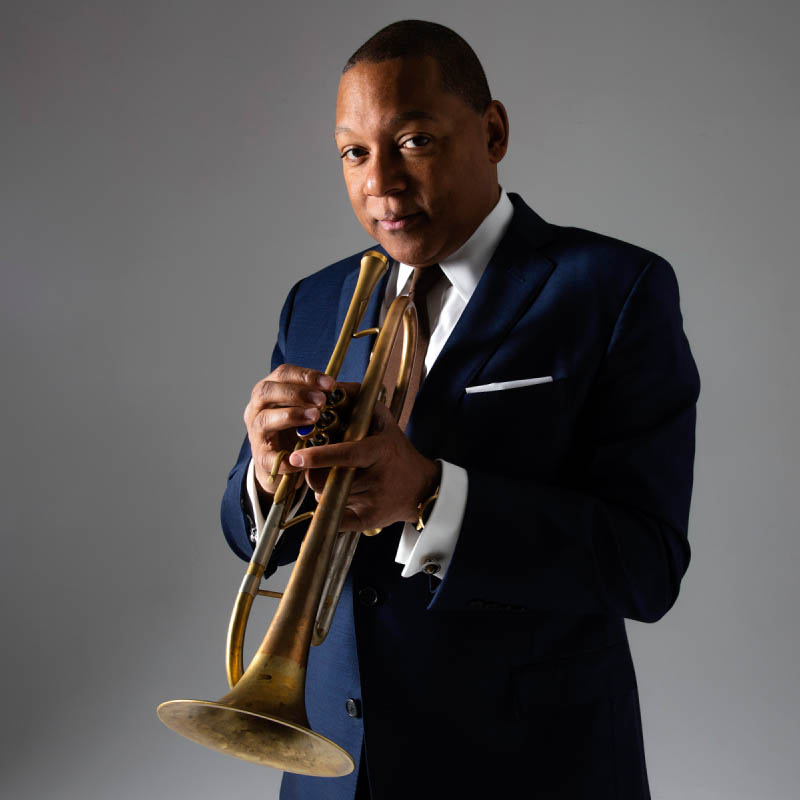 Wynton Marsalis
"This is an incredibly gratifying feeling for all of us who love and have dearly missed gathering with others for an evening of live performance. We're honored to celebrate this momentous occasion with jazz legend Wynton Marsalis. It's beyond anything we could have dreamed of back in March of 2020 when our world changed forever."
Drew Martorella, assistant vice president and managing director of the Pittsburgh Playhouse
Live, in-person music will be heard again in Downtown Pittsburgh as Point Park University's Pittsburgh Playhouse and MCG Jazz host an invitation-only evening of music by renowned trumpeter and composer Wynton Marsalis.
"This is an incredibly gratifying feeling for all of us who love and have dearly missed gathering with others for an evening of live performance," said Drew Martorella, assistant vice president and managing director of the Pittsburgh Playhouse. "We're honored to celebrate this momentous occasion with jazz legend Wynton Marsalis. It's beyond anything we could have dreamed of back in March of 2020 when our world changed forever."
Marsalis will lead The Jazz at Lincoln Center Orchestra Septet's performance of "The Sounds of Democracy," a composition which aims to entertain, inspire and uplift audiences with the full vigor, vision and depth of America's music. Marsalis is the managing and artistic director of jazz at Lincoln Center in New York.
MCG Jazz, Pittsburgh's foremost presenter of jazz music, is co-host of the evening.
"This event will officially kick-off the 35th Anniversary Season for MCG Jazz. The full jazz at Lincoln Center Orchestra will be back at MCG Jazz next March. The opportunity to experience the JALCO Septet for an intimate performance is the perfect way to celebrate live jazz back in a theater space," said Marty Ashby, executive producer of MCG Jazz. "These are some of the finest musicians in the world, and the concert's unique repertoire celebrates jazz's embodiment of freedom and democracy."
Premiere of "Democracy Suite," New Marsalis Composition
The evening will feature the Pittsburgh premiere of "The Democracy Suite," a new Marsalis composition written during the ongoing COVID-19 crisis as a response to the political, social and economic struggles facing the nation.
"The Democracy Suite" is a swinging and stimulating instrumental rumination on the issues that have recently dominated people's lives as well as the beauty that could emerge from a collective effort to create a better future. Concert selections may also include works and arrangements by members of the Septet, selected movements from Sonny Rollins's "Freedom Suite" and John Coltrane's "A Love Supreme."
Event Information
The concert takes place on Saturday, May 29 at 7:30 p.m. Doors open at 7 p.m.  This an invitation-only event. The audience is being capped at 142 to comply with COVID-19 safety guidelines.
The Pittsburgh Playhouse and MCG Jazz Launch Summer 2021 Concert Series
The Jazz at Lincoln Center Orchestra Septet's performance of "The Sounds of Democracy" will be the kick-off event of the Pittsburgh Playhouse and MCG Jazz 2021 summer concert series, Inside/Outside.
Every Thursday, beginning June 24, performances by local and regional jazz musicians will be held on the Plaza at the Pittsburgh Playhouse from 4:30 – 6:30 p.m. Tickets are $10 and will be available at the Pittsburgh Playhouse Box Office at pittsburghplayhouse.com or by calling 412-392-8000.
Jazz musicians set to perform include:
June 24: Pittsburgh Piano Celebration
July 1: Pittsburgh Jazz Drum Circle
July 8: Defade Family Pittsburgh Album Release Party!
July 15: Guitars for Pittsburgh
July 22: Allan Harris Sings Pittsburgh
July 29: Pittsburgh Jazz Orchestra Plays Pittsburgh
"Outdoor space and the ability to socially distance makes the Pittsburgh Playhouse's plaza the perfect place to program a great summer of music," said Ashby. "We know jazz lovers have been missing live performance, so this is a great opportunity to bring in-person music back in a safe way."
Mister Rogers' Neighborhood Piano Takes the Stage
In addition to an evening of exceptional music, audience members will see and hear the piano played by renowned Pittsburgh jazz musician Johnny Costa on Mister Rogers' Neighborhood.
Fred Rogers Productions and WQED partnered in 2019 to donate the piano to MCG Jazz, a Steinway Model B, signed by the makers, that was played by Costa from 1987-2000 in the WQED studio where every episode of the beloved children's television series was filmed. During renovations to the MCG Jazz music hall, the piano has been, temporarily, moved to The Pittsburgh Playhouse for safe keeping and to be used during The Pittsburgh Playhouse and MCG Jazz summer 2021 concert series.
During a May 1986 episode of Mister Rogers' Neighborhood, at Negri's Music Shop, Mister Rogers introduces viewers to trumpeter Wynton Marsalis and talks to him about the importance of practice. 
"This partnership is only the beginning. We look forward to even more creative, unique and compelling collaborations and programming in the future," said Martorella. "We are committed to positioning Point Park University's Pittsburgh Playhouse at the center of Downtown Pittsburgh's vital arts and entertainment landscape."
More About: Pittsburgh Playhouse, Downtown Pittsburgh