more news
Faculty Q&A: School of Education Founding Dean Darlene Marnich Honored by Former Student for Fostering Education Excellence
Thursday, May 18, 2023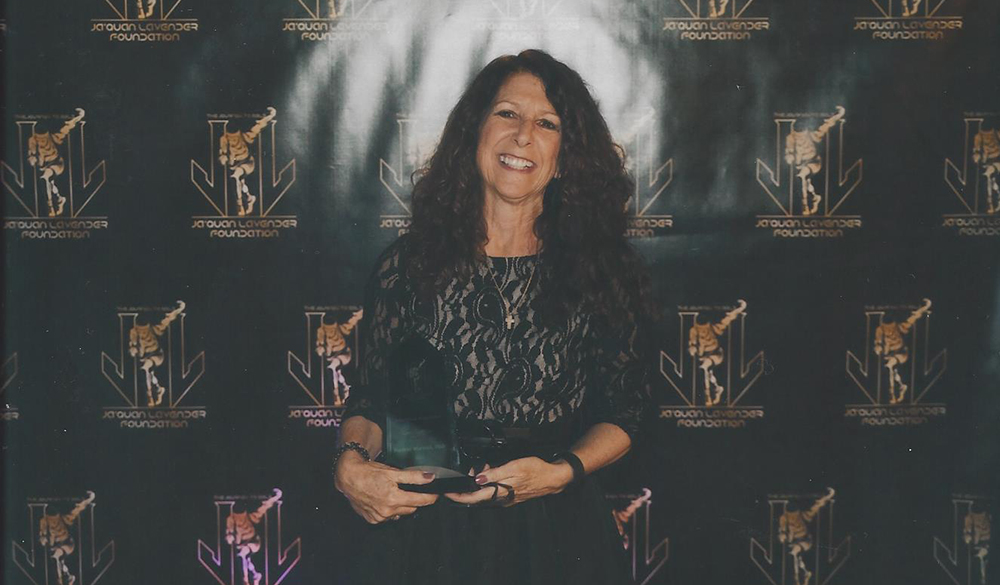 "Education excellence is much more than teaching content. It is about connections, relationships and trust. In the School of Education, we proudly display the phrase, 'Who you are is how you lead,' and encourage our students to live that mantra."
Darlene Marnich, Ph.D.
Darlene Marnich, Ph.D., founding dean of Point Park University's School of Education, helped save Ja'Quan Lavender's life when he was a student.
"I had a lot of things going on with athletics, classes and more," he said. "She emailed me because she was concerned about my grade in her class, and I opened up and told her I was going to commit suicide. She changed from a professor into a nurturing mother. She began to cry and said, 'You don't have to do this. It's not worth it.' With those words, the love I felt and the way she had my back – she saved my life. I will forever thank her for that moment."
Since then, Lavender founded his own nonprofit organization, the Ja'Quan Lavender Foundation, which empowers youth in pursuing their hopes and dreams through professional programming and mentorship. At the foundation's inaugural GOLD Gala Awards this spring, he presented Dr. Marnich with the Education Excellence Award. 
"Dr. Marnich's leadership is amazing," he said. "She is more than just a professor. She is a mentor and leader. She is outspoken, courageous and a true woman of integrity. I've watched her develop programs for Point Park and continue to help students thrive at a high level. She brings impeccable, world-class services to everything she does." 
In the Q&A below, Dr. Marnich reflects on the award and her passion for education. 
What does it mean to mean to receive this award?
Receiving this award was one of the highlights of my career in education. Ja'Quan recognized me as a professor who was instrumental in positively changing his path during his time at Point Park. He was in my elementary statistics class, and at the same time, I was serving as the faculty athletic representative for the University. When I saw Ja'Quan struggling, with both the course and an injury that prevented him from competing, I stepped in. Until the gala, when Ja'Quan told his story of that difficult time, I had no idea the level to which I had impacted his life and the choices he made.
How do you define education excellence, and how do you infuse that into the School of Education?
Education excellence is much more than teaching content. It is about connections, relationships and trust. In the School of Education, we proudly display the phrase, "Who you are is how you lead," and encourage our students to live that mantra. Teachers are leaders, so in many ways, the phrase could be, "Who you are is how you teach."  Some characteristics of the best leaders and teachers are empathy, integrity, passion and vision. We inspire students to be their best selves, and on the days when they might not see it in themselves, we believe in them and help them to get back on the path to their best life.
What do you love about teaching?
I love that teachers make a difference. Teachers are those people in the world who are responsible for every other career. Without dedicated teachers in K-12, and then in college and graduate school, we would not be able to achieve the best life that we lead.  
My parents did not have the opportunity to attend college. They were first-generation Americans. In fact, my father had to quit school around 7th grade to work in mines to help support a very large family. But, my whole life the expectation was that my siblings and I would go to college. My brother attended Notre Dame University and law school, my sister has her MBA and runs a successful business, and I am grateful for my 40-plus years at Point Park. The only difference between our lives and the lives that my parents led was the opportunities that our education provided us. For me, the idea that education changes lives is not rhetoric, but rather a value that was instilled in me from as far back as I can remember. 
What makes Point Park's School of Education distinctive from other universities?
In the School of Education, we are student-centered. It does not matter if you are a first-term freshman or a doctoral student – we want to get to know our students and build relationships with them. With our small class sizes, whether you're in our Matt's Maker Space Lab as an undergraduate student, an online master's cohort program or even doctoral program, we are here to support you so that you can achieve your personal and professional goals.  
What kind of learning experience can students expect from the School of Education?
I think the phrase "theory to practice" is not just an ideal, but the underpinning of all we do in the School of Education. Even in classes where theory is important, it is always tied to the application of the theory, whether as a classroom teacher, a building principal or a school district superintendent. Often, the students in our master's and doctoral programs are employed full-time.  We hear from students all the time that they apply the theoretical information presented in a class to a work situation that same week. This real-world application of what students learn in our programs is the basis for what we do and who we are in the School of Education.
What do you hope to instill in the next generation of aspiring educators and rising education leaders? 
Our doctoral program was built around six pillars of leadership: authenticity, visionary, cultural/relational, quality/capacity, service systems and communication. These pillars, we believe, are at the heart of good leadership. While these are intertwined in all I do, I have four of my own that I think about and act upon, on a daily basis: fairness, integrity, truth and equity. 
It is with these principles that I have tried to best help those students in my classes, as well as to support the faculty in the School of Education. I believe that these principles have helped to lead to the success that we have seen, for individual students, as well as the ever-growing and evolving School of Education at Point Park.
Learn more about Dr. Marnich in the video below:
More About: early childhood education, School of Education, special education, Ed.D. in leadership and administration, secondary education, success story, education, elementary education, faculty