more news
Get Career-Ready with: Kaitlyn Caiarelli '24, Elementary Education Major Seeking Dual Certification in Special Education
Student Profile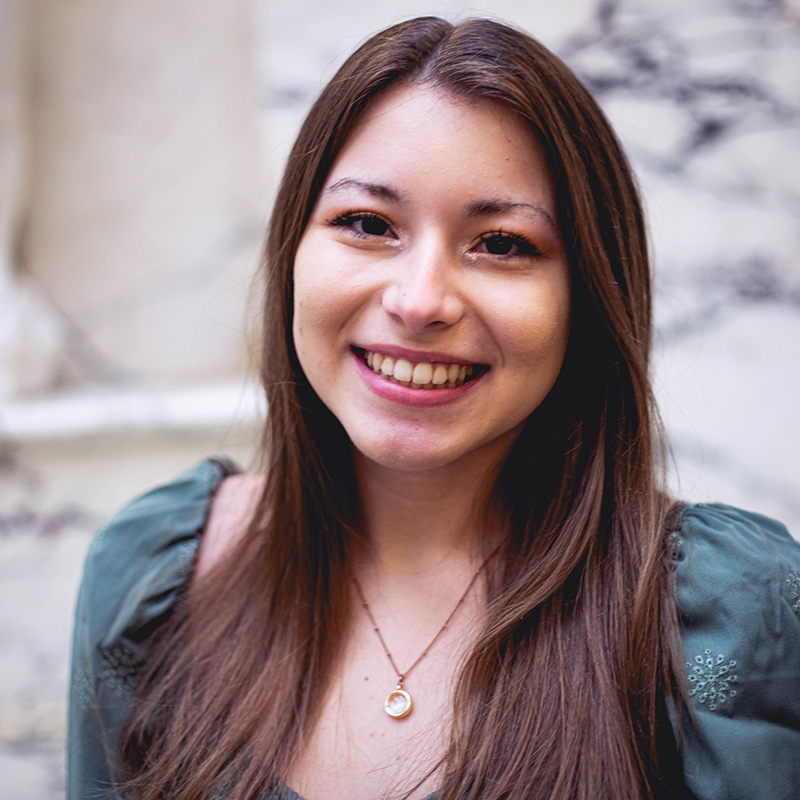 Photo by Madi Fisher '24.
Meet Kaitlyn Caiarelli '24
Major

Education Pre-K – 4th Grade

College Activities

Competitive cheer team

Hometown

Homestead, Pa.

High School

Steel Valley Senior High School

Dream Job

Kindergarten or first grade teacher

Hobbies & Interests

Cheerleading, reading, watching TikTok, hanging out with friends and working at Bath & Body Works
"Point Park University's School of Education is preparing me for a career in education by offering courses that include real-world experience out in the field."
Kaitlyn Caiarelli '24
Describe the moment you knew Point Park was the school for you.
I became interested in Point Park when I was researching schools close to where I live. I wanted to be able to commute from home, and Point Park is about a 15-minute drive from my house. I was glad to see that the School of Education offered a dual-certification path through which I could become certified in Pre-K through fourth grade and special education in four years. I was also drawn to Point Park because it has a competitive cheerleading team, and I did sideline cheerleading all four years of high school and competitive cheerleading in middle school.
What do you love about Point Park?
I love the friendships that I have made at school and through cheerleading. I have made many close friends within my major because some of us have been in the same classes together since freshman year. We work very well together and support one another in our goals as aspiring educators. Our cheer team loves to support our fellow athletes by attending their games as much as we can. I also love the small class sizes at Point Park. This allows us to get to know our professors well and form positive relationships with them. I've taken multiple courses with the same education professors since my freshman year, which has strengthened those bonds even more. 
Tell us about your favorite professors.
The School of Education faculty are all very understanding and genuinely want their students to be successful. Virginia Chambers, Christal Edmunds, Kristen Misutka, Kamryn York, and Nicole Bezila are some of the professors that I have enjoyed learning from the most. Dr. Bezila has been my favorite professor for my special education studies because she encourages us to discuss important, relevant topics that will be extremely useful for entering that field.
It is extremely beneficial to have classes in Matt's Maker Space Lab because it allows us to see and use the real materials and tools that we can expect to use in our future classrooms. We're able to prepare hands-on, engaging activities for the students we teach during our field experiences.
How is the School of Education preparing you for career success?
The School of Education is preparing me for a career in education by offering courses that include real-world experience out in the field. The reading and math methods courses gave me the opportunity to teach students in grades K-4 for several weeks, which showed me what it will be like to have a classroom of my own someday. Other courses like Teaching Science and Teaching Social Studies have allowed me to explore different styles of teaching, such as co-teaching and team-teaching groups of students. This is beneficial because it allows us to collaborate with our peers to develop and deliver the best lessons possible. We are currently piloting social and emotional learning curriculum in our Integrating Curriculum and Instruction course with kindergarten students through a collaboration with educational toy company Open the Joy. We're developing lesson plans based on their products and providing feedback to the company for improvement. 
What do you like about going to school in Downtown Pittsburgh?
There are so many things to do around our city campus. Market Square is where many of my friends and I go to get lunch in between classes. The UPMC Rink at PPG Place is fun to skate at during the winter. I also like that Point Park is a short walk from Point State Park. It's the perfect place to relax when the weather is warm. 
Why would you recommend Point Park to a prospective student?
I would recommend Point Park to a prospective student because of the small class sizes. Within the School of Education's close-knit atmosphere, my classmates and I have created a very comfortable environment for learning and testing our skills. We practice presenting our lessons to one another before we teach them to our students. We all share "glows and grows" with each other to help make our lessons the best they can be. We are very supportive of one another, and our professors care about us.
Learn more about Professor Christal Edmunds, Ph.D., in the video below:
More About: education, athletics, elementary education, School of Education, Get Career-Ready, special education, faculty