more news
Master's of Education Alumna Melissa Botta-Havran '22 is a Lead Teacher at Catalyst Academy of Pittsburgh
Alumni Profile
Meet Melissa Botta-Havran '22
Job Title & Employer

Lead Teacher, Catalyst Academy of Pittsburgh

Major

PreK-4th Grade Certification-M.Ed.

Hometown

Morningside, Pa.

High School

Oakland Catholic High School

Now Living In

Oakmont, Pa.

Hobbies & Interests

My most rewarding job is being a mom to my son, Michael, age 9. I am an avid runner, reader and writer. I enjoy hiking and skiing with my family. 
"The faculty and staff in Point Park's School of Education have their finger on the pulse of what is most challenging in education today. They are knowledgeable and incredibly accessible, which, as a working mom, was important to me as I navigated this program."
Melissa Botta-Havran '22
I wanted a competitive program that would allow me the flexibility to continue prioritizing being a mom to my young son, while still being able to fully engage with fellow students and professors on an academic level. The main attraction to Point Park was the robust curriculum they offered for their graduate programs.
The program's curriculum was scaffolded so the workload became more rigorous toward the end of the program. The balance between independent work and collaboration with my peers equipped me to express my own thoughts on education while respecting and taking others' opinions into consideration. Essentially, this mix taught me to think outside the box when considering the specific needs of each student. This program really did a deep dive at the end of each course. Nothing of importance was left untaught.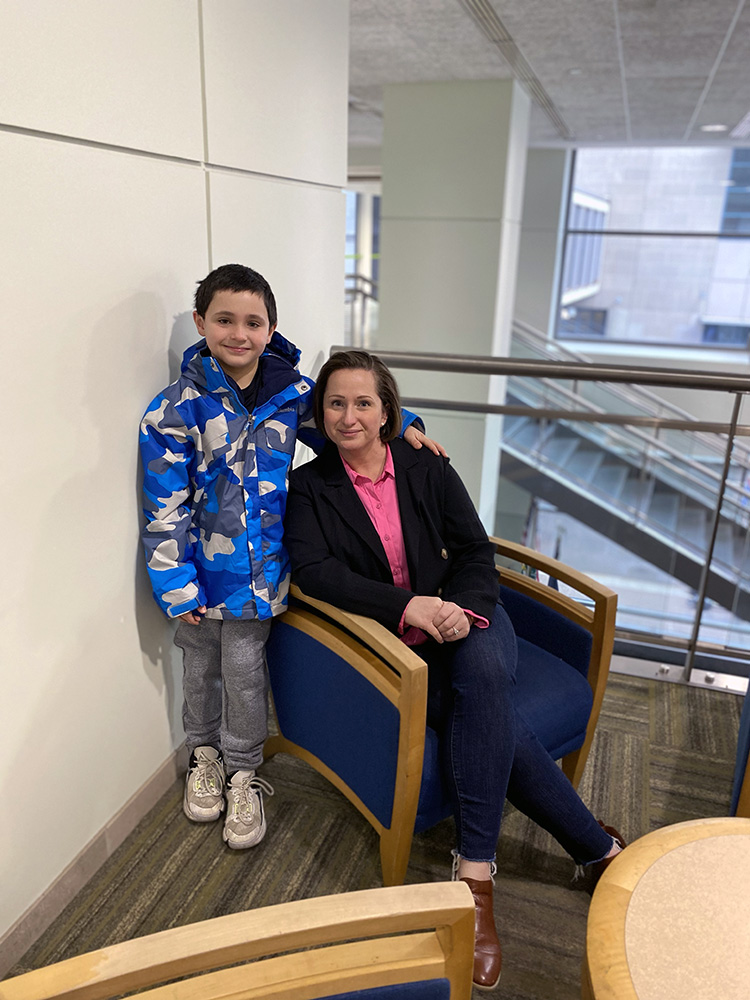 Melissa Botta-Havran '22 and her son, Michael
Describe the flexibility our program provided.
Being a mom is certainly the most important job I will ever have. My joys in life come from my role as mother and wife; however, as everyone starts to grow up, you realize its your time to find joys outside the home. For me, it was teaching. I love what I do, and I love the kids I teach. This program being fully online allowed me the opportunity to put family first and participate in my son Michael's sports and activities that were important to him. When he went to bed, the schoolwork started. Had it not been for the online program, I am not sure if I would have been able to complete the program at this time in my family's life. I am grateful.
Were there any faculty members who had a significant impact on your Point Park experience?
They were all incredible instructors, but in particular, I would have to say Kamryn York, Ed.D. Dr. York was highly knowledgeable, accessible and supportive. Her love for what she does was an inspiration to me as I faced the challenging last semester of the program.
Equally as impactful was my dad, Michael Botta, D.S.S., professor and chair of the Department of Criminal Justice and Intelligence Studies in the School of Arts & Sciences. His love for the University and commitment to his students have always been a constant inspiration. Having witnessed the impact he has had on his students post-graduation speaks volumes to the passion one should have while pursuing a career in education. Watching his commitment and dedication inspired me to excel in my own program and career as an educator.
What are you teaching now, and what do you enjoy about it?
At Catalyst Academy Charter School, I teach general studies for the second grade. Dipping my toes into urban education has been perhaps one of the most rewarding experiences of my career. I enjoy learning about each of these unique students. Many have had trauma in their lives, specifically emotional trauma. It has been a humbling experience and speaks to the state of education in the U.S. today. Somewhere along the way, many children have been left behind. There are wonderful educational institutions, like charter schools, that are equipped to handle these dilemmas and strive to bring out the gifts each student possesses while providing them with a high-quality education in the least restrictive environment. The goal in these institutions is that no child will be left behind.
Tell us about your writing career.
I love writing. In 2013, I wrote a children's history book, illustrated by my talented mother, called "George Washington." Since then, I've had the pleasure of writing both historical and political articles for History Is Now, an online magazine, and a political article for Future Female Leaders, another online publication. Currently, I am working on an e-book with Amazon called, "A Kid's Guide to Patriotism," while developing a presentation on the significance of 9/11 for future generations. I hope to complete both of these projects this spring.
What advice do you have for other aspiring educators?
There are days when it's going to get hard. Get up, show up and never give up. Also, never stop learning. Even though the class work is done, teachers are lifelong learners and should aspire to not only share their knowledge with their students but seek opportunities to collaborate with peers.
Why would you recommend Point Park to a prospective student?
The faculty and staff in Point Park's School of Education have their finger on the pulse of what is most challenging in education today. They are knowledgeable and incredibly accessible, which, as a working mom, was important to me as I navigated this program. Their love and enthusiasm for teaching were motivators for me during my student teaching practicum. The mentorship I received from them has empowered me to mentor younger teachers seeking help with studying for the Pennsylvania Educator Certification Tests (PECT), and I share my own career path with them. I believe we learn best by listening to the stories of others. 
Is there anything else you'd like to add?
"Education is the most powerful weapon which you can use to change the world." – Nelson Mandela
Even if we don't think children are watching us, they are – the way we carry ourselves in the classroom, how we respond to stress, etc. It's important to constantly be aware of this to inspire the next generation of learners.
Learn more about Kamryn York, Ed.D., assistant professor, in the video below:
Connect with Melissa Botta-Havran '22
More About: graduate programs, School of Education, Oakland Catholic High School, M.Ed. in PreK-4th Grade Certification, education, success story, faculty, alumni