more news
School of Education Invests in Youth Mental Health First Aid
Tuesday, May 18, 2021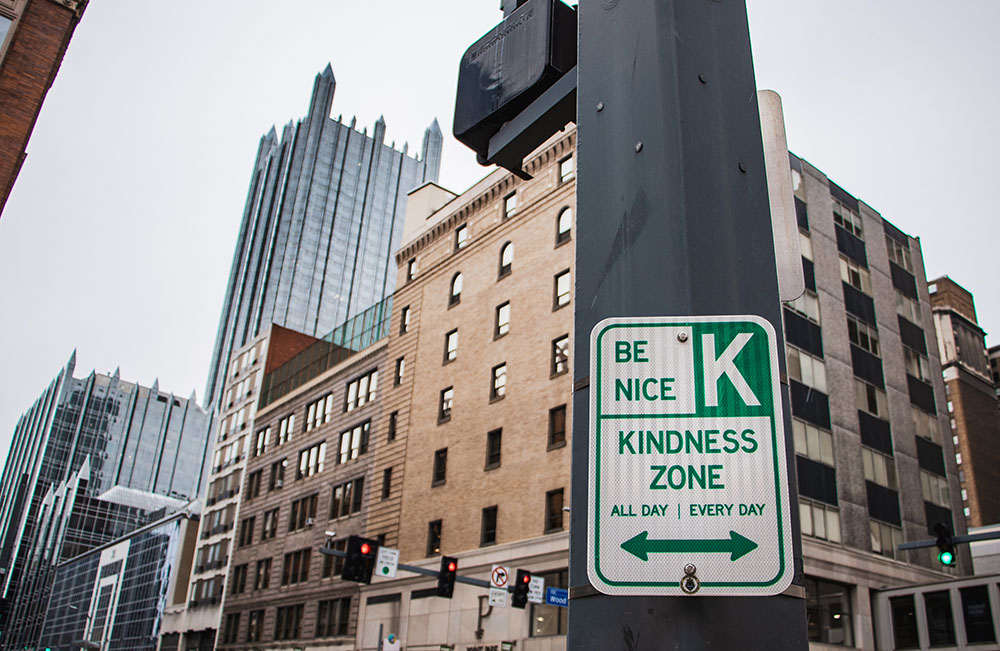 Photo by Megan Gloeckler, B.A. in multimedia major
"At Point Park, we prepare our students to be proactive teachers. Youth Mental Health First Aid is another tool in their toolbox that they can use to empower themselves to meet the needs of their students and give them a voice."
Kamryn York, Ed.D., lecturer, School of Education
Teaching a child goes beyond academics, according to Christal Edmunds, Ph.D., Point Park University professor of education. Social, emotional and physical needs must also be met for a student to learn and develop and successfully. 
"If someone would come into your classroom not having eaten breakfast, they're not going to be able to learn well," she said. "In the same way, if they have anxiety, fears or issues with some other part of their life, they won't be able to learn well either."
Point Park's School of Education is prioritizing the role of mental health in education by training its faculty and student teachers on Youth Mental Health First Aid, a program from the National Council for Mental Wellbeing that seeks to teach parents, family members, caregivers, teachers, school staff, peers, neighbors, health and human services workers and others how to help a child, ages 12-18, who is experiencing a mental health or addictions challenge or is in crisis. 
"We saw a positive impact immediately with our student teachers," Edmunds said. "One of them said she was in a kindergarten class and was seeing some of the symptoms in one of her students. We can provide this content to help them with that early intervention. The training brings to light the signs and symptoms."
The Centers for Disease Control and Prevention reports that one in six children ages 2–8 (17.4 percent) in the U.S. have a diagnosed mental, behavioral, or developmental disorder, while the World Health Organization reported in 2020 that mental health conditions account for 16 percent of the global burden of disease and injury in people ages 10-19.
Topics covered in Youth Mental Health First Aid training include:
Anxiety

Depression

Substance use

Disorders in which psychosis may occur

Disruptive behavior disorders, including AD/HD

Eating disorders
Point Park's involvement with the program began last year, when Edmunds and Vincenne Revilla Beltrán, Ph.D. received funding to earn certification as instructors. 
This year, the McDowell Institute at Bloomsburg University awarded $9,980 in grant funding to Point Park for up to 150 School of Education student teachers to receive the training and for professors Richard Gutkind, Ph.D., and Kamryn York, Ed.D., to become certified instructors. Additionally, Edmunds and Revilla Beltrán will receive suicide prevention and awareness training.
"At Point Park, we prepare our students to be proactive teachers," York said. "Youth Mental Health First Aid is another tool in their toolbox that they can use to empower themselves to meet the needs of their students and give them a voice. We are not counselors. We are not supposed to be able to diagnose anything, but we are able to identify if something is atypical."
Point Park students completed exit surveys after a recent training, sharing what they found to be the most relevant takeaways:
"I can make a difference in a student's life when they are dealing with something difficult."
"The perceptions and tone that revolve around listening."
"How to encourage self-help skills."
"What a crisis situation actually is. I previously just thought about suicide and panic attacks."
"I learned ways to help students come up with their own solutions."
"Noticing small signs within children that can be a concern for seeking further assistance."
"As First Aiders, we do not want to focus as much on giving advice but focus more on helping the person figure out on their own what they should do and be there to guide them and follow up on them."
"De-escalation tactics."
"Maslow's Hierarchy of Needs before Bloom's taxonomy. We need to understand students' needs."
"Listening without judgement."
The School of Education faculty plans to expand Youth Mental Health First Aid trainings to the larger Point Park community, as well as Pittsburgh.
"Our focus primarily is on our pre-service teachers, but the training has been offered within community organizations, parents and police officers," Revilla Beltrán said. "There's a wide-ranging audience who can take the training. We are brainstorming how we can maximize the training we now have received. We hope to do some on-campus programming and community outreach."
Gutkind said in his training, he and York were the only ones who represented faculty from a school of education. 
"That tells me there is a great need out there," he said. "From my previous career at an urban school district, it was frustrating to see the lack of resources for our students. It starts with the teachers. We think there's a big need in this area that we can make a dent in and make a contribution."
More About: School of Education, faculty, elementary education, secondary education, early childhood education, education