more news
School of Education Launches New Learning, Design and Technology Degrees
Thursday, April 29, 2021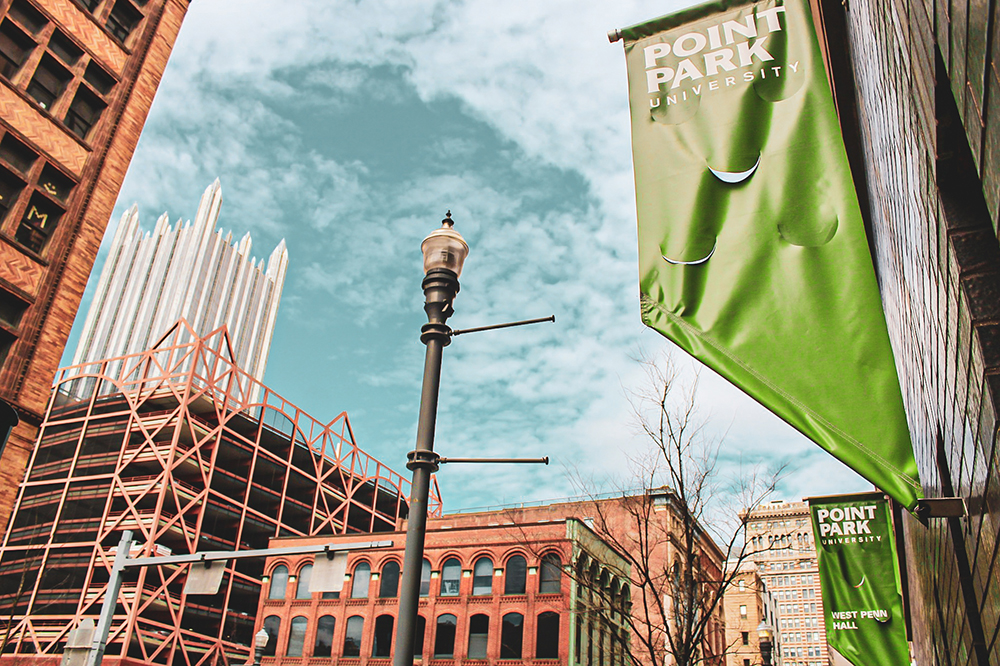 Photo by Nathaniel Holzer
Point Park University's
School of Education
is
now accepting applications
for two new master's degree programs designed to prepare teachers and working professionals with the tech-savvy skillsets needed to excel in an increasingly technology-reliant world.
Offered fully online, the 
Master of Education
 and
Master of Arts
 in Learning, Design and Technology immerse students in curriculum and field experiences inspired by the real world to help them develop knowledge and skills in:
Inclusive instructional design
Emerging technologies
Digital media
Pedagogical approaches
Learning analytics
Leadership
Digital accessibility
Emergency remote teaching and more
"The School of Education envisioned the importance of these degree programs and had begun the development of them prior to the pandemic," said
Darlene Marnich
, Ph.D., professor and founding dean of the School of Education. "Once we saw the impact that technology made during those difficult times, we knew that these programs could be a tremendous benefit to many."
The M.Ed. is designed for those who work and teach in K-12 public, private, charter and basic education learning environments. The M.A. is perfect for professionals looking to advance in leadership, administration and management positions in the learning, design and technology fields. 


"Now, more than ever, our nation's schools require educators who understand technology and know how to use it in the classroom," Marnich said. "However, this need does not end with basic education. This holds true of higher education, the corporate world, non-profit companies as well."


In addition to the new degrees, the School of Education has added an
Online Instruction Endorsement
and
Instructional Technology Specialist Certificate
, both fully online programs. The new M.Ed. includes the endorsement and certificate, and M.A. students complete the Instructional Technology Specialist Certificate by taking one additional course. These options enable students to choose the best path for their career goals.
Learn more about these new degrees in the Q&A below from the professors who designed these progressive programs. 
Who are these degrees ideal for, and why?
Vincenne Revilla Beltrán, Ph.D.
:
 The degrees are designed for persons who want advanced professional skills in learning, curriculum design and technology integration and who also want to advance their careers in the field because the programs include management and administrative courses.
How will these degrees benefit working professionals or teachers address in their fields?
Virginia Chambers, Ed.D.
: Our program will prepare individuals to become leaders in instructional technology through learning best practices for integrating technology in the classroom and workplace. These degrees provide graduates with the skills and expertise needed to meet the diverse needs of all learners and support staff and students in effectively using technology to enhance engagement, motivation and progress.

How did you develop these degree programs?
Barbara Frey, D.Ed.
: 
The Learning, Design and Technology programs were developed based on what we saw as a need for K-12, higher education and workplace educators. In 2020, emergency remote instruction caught many faculty and trainers unprepared to fulfill their professional roles. As we move past the pandemic, professionals recognize a gap in their knowledge and skills related to blended and online teaching and the necessary pedagogy and technology.


We explored similar graduate programs, and, based on our backgrounds as administrators, trainers, instructional designers, teachers, professors and online learners, we created a program that we thought most efficiently and effectively met educators' needs.
Point Park's program is different from other universities because it was designed by practitioners for practitioners. The information in the program is useful and authentic. Assignments are based on actual problems and decisions faculty experienced in the field.
What challenges will these degrees help working professionals or teachers address in their fields? 
Lorna Kearns, Ph.D.
: 
Technology is ever-changing. Instructors today not only need to be well-versed in the wide variety of instructional technologies available to them and their students or colleagues, but, even more importantly, they need to be able to quickly learn new technologies, assess their relevance to their subject and integrate them appropriately into active, engaging, learning experiences. This program will prepare them to tackle those challenges and lead their classrooms and teams to success. 



More About: faculty, online programs, School of Education, education