more news
Secondary Education Alumna Shyanne Rippole is a 7th-12th Grade English Teacher
Alumni Profile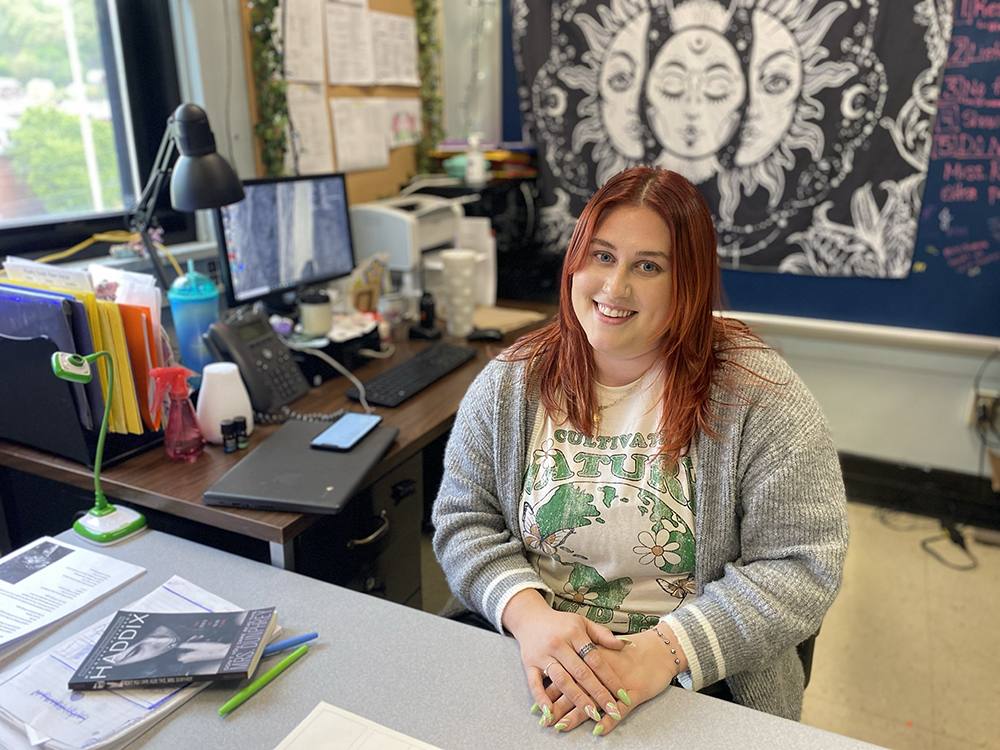 Meet Shyanne Rippole '21
Job Title & Employer

7th-12th Grade English Teacher, Sto-Rox Jr./Sr. High School

Major

Secondary Education

Hometown

McKees Rocks, Pa.

High School

Cornell High School

Now Living In

McKees Rocks, Pa.
"Ms. Rippole has demonstrated excellent classroom management, built outstanding relationships with students and is a reflective practitioner."
Megan Marie Van Fossan, superintendent, Sto-Rox School District
"All of Point Park's School of Education professors – and I mean all of them – will help you map out the way. They are so knowledgeable and know so many different people in the field to help you make connections. The School of Education is its own family."
Shyanne Rippole '21
Why did you choose Point Park University?
I wanted an environment that was close-knit so that I could actually know my professors and allow them to actually know me. I loved the location of the school. I could easily access Downtown Pittsburgh destinations and go on adventures around the city with my friends. The location was also perfect for commuting. I worked the entire time I was a student, and while that was exhausting, the location made it easier. I also became a school board director for Sto-Rox School District during my time at Point Park, so being able to travel easily from my evening classes to my school board meetings was beneficial for me.
How did the secondary education program prepare you for career success?
The School of Education professors I had at Point Park are some of the most kind-hearted, passionate people I have ever met. Their knowledge in the field helped me become the teacher I am today. They truly modeled what it means to be not just a good teacher, but an outstanding one. They gave me the ability to understand pedagogy and standards, but also the ability to be flexible and to move with grace for myself and my students.
In Stanley Denton's classes, we covered a lot about understanding that people come from different backgrounds and how important we are as educators in the role we play in students' lives. He helped me learn to give people the space to grow inside and outside of a classroom setting. I also keep a drawer filled with cereal bars for my students because of Christal Edmunds. She always made sure we were nourished and taken care of, and I want to be that person for my students. 
It means a great deal to me. It is really nice to know that someone sees the work I put in with and for my students every day. It also means so much to me because I was a student in this district and then a school board director, so the impact this place and the teachers have had on my life is more than I can put into words. Knowing that other people see me, my potential and the drive I have is an amazing feeling. I think at times humans get that sense of imposter syndrome or self-doubt, and being nominated by a fellow teacher with many years of experience just affirms that I am doing a good job in my role here at Sto-Rox. 
What do you love about being a teacher?
I love that each day brings new possibilities and potential. Seeing my students' faces when they understand a concept or finally gain confidence in their abilities is just the most magical thing. The relationship I get to foster every day with my students is truly invigorating in a way that I know I would not find in any other profession. While every day isn't one of perfection, I take it as a learning opportunity for myself. There are hard days in every profession, but for me, the good far outweighs the bad. I get to know these growing, changing human beings and learn what they love or what they're passionate about. I get to find common ground and make sure they know they have a cheerleader. I am so proud of them.
What advice do you have for current School of Education students?
Embrace the experience. Point Park professors are incredible and have so much wisdom and insight. They will have your back and be there for you whenever you need it. There is just such a strong sense of community in the School of Education. They will root for you and guide you through this time. Hold on tight to the person you are because your future students will respect you for it.
Why would you recommend Point Park's School of Education to a prospective student?
All of Point Park's School of Education professors – and I mean all of them – will help you map out the way. They are so knowledgeable and know so many different people in the field to help you make connections. The School of Education is its own family. I know I could send an email tomorrow asking for help or posing a question, and someone would provide me with the answers I need. I trust them so much.
Is there anything else you would like to add? 
With passion, an open mind and the desire to make an impact in some way, we can truly help make this world, or our small part of it, better. It's all about our own paradigms and checking them when they lose focus. I have a banner in my room from the television show "Ted Lasso" that says "Believe." That is my motto for school and life. We have to believe in ourselves and the people around us.
Learn more about Christal Edmunds, Ph.D., in the video below:
More About: secondary education, special education, Downtown Pittsburgh, alumni, Pittsburgh, faculty, success story