more news
Instructional Studies Degree Propels Grad to Paraprofessional Position While Preparing Him for a Career in Special Education
Alumni Profile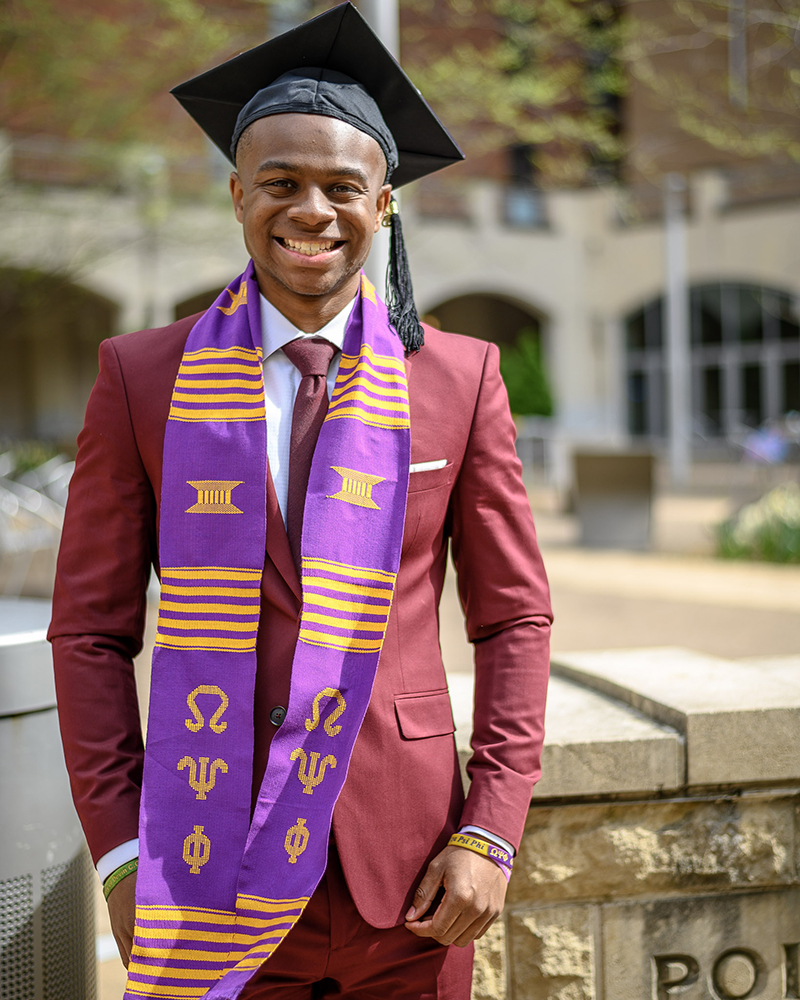 Meet Theopolis Washington III
Job Title & Employer

Paraprofessional, Maple Heights High School

Job Title & Employer

Track and Field Coach, Glenville High School

Major

Instructional Studies

Graduation

December 2018

College Activities

Point Park Men's Track and Field Team, The Body: Christian Experience, Black Student Union, Future Educators of America and The Omega Psi Phi Fraternity, Inc.

Scholarships

Men's Track and Field Athletic Scholarship

Hometown

Cleveland, Ohio

High School

Nordonia High School

Now Living In

Macedonia, Ohio

Dream Job

Intervention specialist in an urban school district and also to become an athletic director or a principal

Hobbies & Interests

Athletic training, playing the drums and coaching (track & field)
"My instructional studies degree from Point Park University put me in a position to prepare for my future in special education."
Theopolis Washington III
How did your instructional studies degree help you land your position with Maple Heights High School?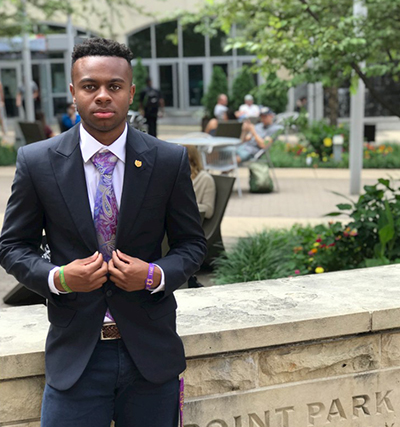 One of the jobs that can come from earning an instructional studies degree is a teaching assistant/paraprofessional. During my final semester, I completed 252 hours of my field experience at Dilworth Traditional Academy, located on the East Liberty neighborhood of Pittsburgh.
At Dilworth, I gained knowledge and experience in assisting teachers with work, grades, behavior management and more. My instructional studies degree from Point Park University put me in a position to prepare for my future in special education. On my first day at Maple Heights High School, I was assigned to work with students in the special education department.
As an Ohioan, what factors made you choose Point Park University?
I was a track and field recruit. I looked at many schools who offered me scholarships to attend their institutions. However, Point Park University stuck out. One of the main reasons is because it's only two hours away from my home. Other places were four, six and eight hours away. I could travel back and forth from campus to home on the same day in a reasonable amount of time.
Also, Point Park University offered me the most amount of scholarship aid and is in the middle of a major metropolitan city, which is highly similar to my hometown city of Cleveland, Ohio. 
In what ways did our School of Education classes and faculty impact you?
One of the biggest impacts that the School of Education had on me was the connection I was able to build with the faculty.
The faculty I built the best connections with are Dr. Arleen Wheat, Dr. Stanley Denton and Dr. Darlene Marnich. Their mentorship, encouragement and leadership stuck with me the most.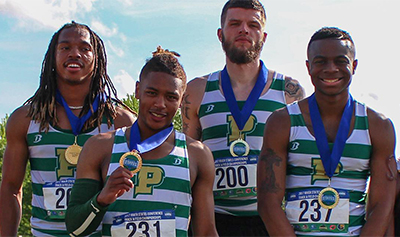 Washington (far right) with his 4X100 relay teammates
What are your favorite Pioneer memories?
During my time at Point Park University, I got involved with a lot of student organizations on campus, in addition to being part of the Men's Track and Field program. I have many memories with friends and made connections like no other.
What are your career goals?
Currently, I am enrolled at Kent State University for graduate school, majoring in their mild/moderate needs for special education and special education Pre-K through fifth grade teaching license program. I would like to be an intervention specialist in an urban school district.
Also, eventually, I would like to apply for a principal's license to become a principal or an athletic director.
Connect with Theopolis Washington III
More About: scholarships, alumni, instructional studies, education, success story, student athletes