more news
At 'Yinzer Party,' Point Park students get a taste of Dahntahn Pittsburgh
Friday, February 27, 2015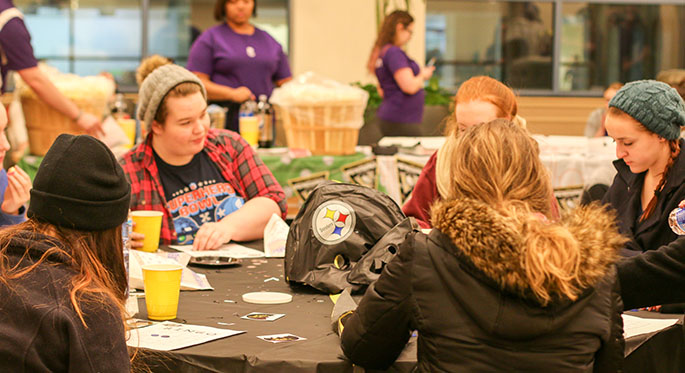 Point Park students play 412 Bingo for Pittsburgh-themed prizes. More photos on Facebook.
Point Park sophomore Amanda Brown won a pair of tickets to an upcoming Pittsburgh Penguins hockey game.
Junior Shayna Mendez, an international student from Jamaica, learned "Pittsburghese" phrases and city factoids playing "412 Bingo."
And sophomore Louis Spanos, a life-long resident of the Pittsburgh area, got to share his hometown pride with fellow Point Park students by organizing the big event - the University's first-ever Yinzer Party - through the student-run Campus Activities Board.
"The Yinzer Party came about from a combination of my committee members brainstorming for an event, everyone's love and my own personal love of Pittsburgh," explained Spanos, a sports, arts and entertainment management major who chairs CAB's Experience Pittsburgh Committee. "My parents are also big Yinzers, so that was a big inspiration for me."
In Pittsburghese, a "yinzer" is someone who uses uniquely Pittsburgh words and phrases, derived from the word "yinz," meaning "you guys" or "you all."
At the Yinzer Party, held the evening of Feb. 18, the CAB team decked out the Lawrence Hall space with splashes of black and gold, including inflatables of Pittsburgh Steelers gear, Penguins banners, black table cloths and yellow cups, and Yinzer Party stickers.
And what's a Pittsburgh party without food? Yinzer Party-goers ate pizza from Genoa's, Fernando's, Pizza Fiesta and R&B's, plus kettle corn and buttered popcorn from the Pittsburgh Popcorn Company.
Students could watch "The Dark Knight" - filmed in Downtown Pittsburgh - or play 412 Bingo (named for Pittsburgh's area code), with questions such as "When was Pittsburgh's first baseball stadium, Forbes Field, built?" (Answer: 1909.)
For each round of 412 Bingo, the winner pulled for Pittsburgh-themed prizes, including a mug from Nicholas Coffee Co. with Pirates M&M's, or a Pittsburgh drawstring bag with Steel City gear.
Brown, a broadcast reporting and broadcast production double major from Red Lion, Pa., (south of Harrisburg) was thrilled to win the Penguins tickets as the evening's grand prize.
"I'm so excited to go to my first Penguins game," she said.
Mendez, a photojournalism major, has become so enthused about the city that she joined CAB's Experience Pittsburgh committee and helped at the event.
"One, I live in Pittsburgh and I want to learn more about it, and two, I feel like I've lived here enough and I feel like I know enough about Pittsburgh to give my own input on the Experience Pittsburgh Committee," she explained.
Spanos felt the party - especially 412 Bingo - gave students a fun way learn more about the city where they're attending college.
"You can go home and surprise your parents with Pittsburgh trivia, whether they're from North Carolina, or they're big, down-home Yinzers," he said. "They will learn something new, and you will too!"

Article and photos by Victoria A. Mikula, sophomore photojournalism major

---
More About: Pittsburgh Pirates, Pittsburgh, Campus Activities Board, Pittsburgh Penguins, Pittsburgh Steelers