more news
Career fair lets students connect with employers for internships, jobs
Friday, October 16, 2015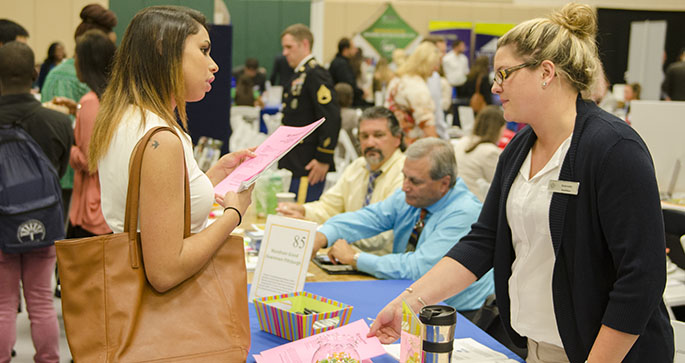 Point Park senior Kayla Velez talks with a prospective employer at the University's Internship and Job Fair 2015.

Polish your resume. Practice your handshake. Prepare answers to basic questions like "What are your strengths?" and "Why do you want to work for us?" Then, put on your best job interview outfit and get going.
Nearly 200 Point Park students got a chance to do all that at this year's Internship and Job Fair held Sept. 29 in the Student Center gym, where recruiters from 110 businesses and organizations came looking for the perfect candidates to fill their internship and job openings.
In its fifth year, Point Park's career fair has become so popular the Career Development Center had an employer waiting list because the gym couldn't fit all the businesses and organizations that wanted to be there.
"Employers were very interested in speaking with Point Park students to recruit for future internships and job opportunities," said Angela Scaramucci, coordinator of employer relations for the Career Development Center.
She noted that this year's employers represented a wide variety of industries and opportunities, and included a number of companies and organizations new to Point Park's event.
"We are always thankful to have employers that return year after year, but this year we had a large number of new employers, so it was nice for us to see some new faces," Scaramucci said.
Turner Construction Co. sent Brian Peglowski, senior project manager, to scout for job candidates, including those in Point Park's civil engineering technology, electrical engineering technology and mechanical engineering technology programs.
"If they're passionate about construction, that's the candidate we're looking for," he said.
The career fair drew students from a wide variety of Point Park's undergraduate majors and graduate programs.
Kayla Velez, a senior majoring in sports, arts and entertainment management, carefully studied the list of employers, selected those of interest, then worked her way around the gym to connect and hand them her resume.
"With graduation coming, I feel that I need to explore opportunities and see what direction I want to go in," she said. "A couple (employers) stood out … I'm hoping some of them contact me."
Accounting major Nicole Mpepoimba, an international student from Zimbabwe, had her picture taken at the Photo Booth for a LinkedIn profile and visited a number of employers to get leads on internship opportunities.
"I'm getting a lot of positive feedback," she said, with a broad smile. "A lot of people like the enthusiasm."
Point Park students and alumni may take advantage of the full range of services offered by the University's Career Development Center, including career exploration, resumes and cover letters, job interview skills and strategies, networking opportunities, on-campus career events, one-on-one career counseling and the Handshake Job and Internship online search. Contact the team at 412-392-3950 or careerdev@pointpark.edu.
More About: accounting, international, engineering technology, Internship and Job Fair, internships, sports, arts and entertainment management, Career Development Center, Downtown Pittsburgh