more news
Cultural Summit gives students taste of African cultures
Wednesday, October 29, 2014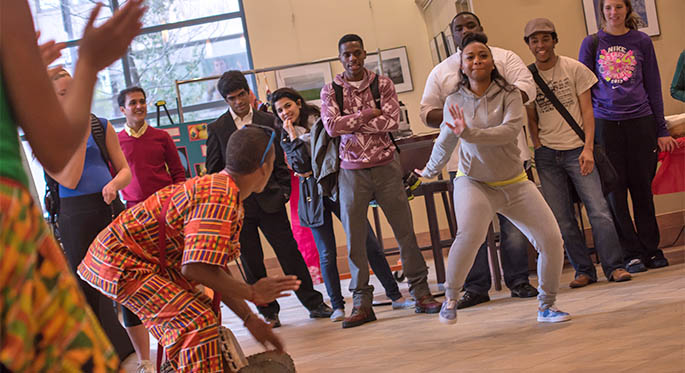 A Point Park student steps out to dance as a Legacy Arts Project drummer provides the beat.
View and share more Cultural Summit 2014 photos on Facebook.
Dancing, drums, samosas and voodoo dolls.
Point Park students got to experience all of those and more during the 6th Annual Cultural Summit, a fall event put on by the University's Office of International Student Services and Enrollment.
This year's summit focused on African countries and culture, filling the Lawrence Hall lobby with tables of African foods to taste, crafts to make and clothing to try on. Point Park international students staffed the tables, encouraging fellow students to try something new.
For several students, that something new was trying African dance moves during a performance by the Legacy Arts Project African dance troupe, whose dancers drew Point Park students out of the crowd to participate (see video).
Point Park has 152 international students this academic year - 112 in undergraduate programs and 40 pursuing master's degrees - from 41 countries. The University also hosts an English as a Second Language center, which also contributes to a global environment on campus.
Esraa Alshebber, a biotechnology major from Saudi Arabia, volunteered at a rack of flowing and colorful African garments, helping other students try them on. She decided to take part after receiving an invitation from the international office.
"I'm not that social a person and I want to change that," she said. "These events expand your skills, your communication and your knowledge of other cultures. It is fun!"
At one of the craft tables, freshman Shelbee Polena, a psychology major from Freeport, Pa., stuffed then decorated a voodoo doll. These voodoo dolls carried only positive messages, including love, tranquility, pain relief and good karma.
Polena used colored markers to give her doll what she termed a feminism jacket, featuring female gender symbols on the front and back. At another table she created a batik craft, which uses wax and dyes to make designs on fabric.
"I had never seen anything like that before," she said.
Francesco Wilkerson, a senior economics and finance major from Pittsburgh's East Liberty neighborhood, discovered the Cultural Summit while walking through Lawrence Hall. He stopped to try the different foods, then stayed to watch the dancing.
He liked the foods he tried - samosas (savory pastry turnovers), bobotie (ground beef, tomatoes, onions, apples, raisins, milk and eggs) and jollof (one pot) rice.
"I'm really picky about what I eat and this is good," he said. "I'm getting a little taste of Africa."
Photos
Interactive Map: Point Park International Students
Select or mouse over countries in green for the number of undergraduate and/or graduate students currently at Point Park.
Photos by Christopher Squier, senior photojournalism major