more news
Family Weekend 2014 draws record crowd for events on campus, around Pittsburgh
Friday, October 24, 2014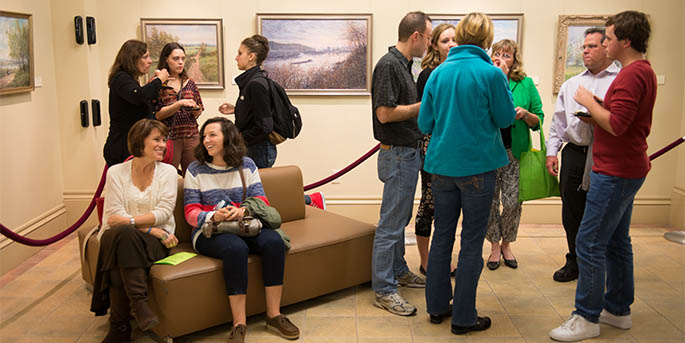 Families and their students enjoyed a reception in Lawrence Hall, including the art gallery space. View and share more photos on Facebook.

Point Park welcomed a record number of guests for Family Weekend this fall, with more than 170 families - totaling more than 625 family members - enjoying student exhibits and performances, opportunities to explore Pittsburgh and social events on campus.
The annual fall tradition gives Point Park students a way to share their University experience with parents, grandparents, siblings and other family members.
Families love the chance to become more familiar with Point Park and to learn more about Pittsburgh as a centerpiece of their student's Downtown Pittsburgh experience.
Performances by theatre and dance, including the Student Choreography Project
Screenings of student films
An exhibit of student photography work
Cross-country team competition
Outings to the Pittsburgh zoo and the Carnegie museums
Refreshments and live jazz in Village Park
Family Weekend concluded with a Sunday morning brunch in the Lawrence Hall dining room.
What parents had to say
"We are so excited for Family Weekend to see the many talented students. It is such a pleasure to see students perform and show their works. We also are so excited to come see the place where our daughter is so happy!"

- Bob and Jennifer Maxwell, Madison, Ohio

"We feel so good about our daughter being at Point Park -- a safe environment, a welcoming feeling, and you always feed us so well!"

-Keith and Carol Loiselle, Richland, Pa.