more news
For spring break, students volunteer, travel and sightsee in New Orleans, New York City
Monday, March 16, 2015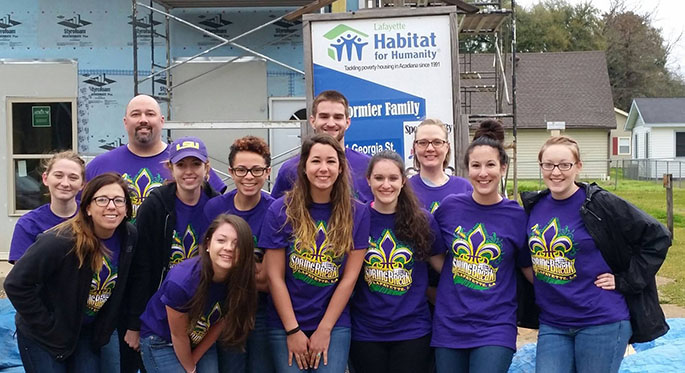 Point Park students volunteered on Habitat for Humanity projects in Lafayette, La., during spring break.
Spring break 2015 offered Point Park students a variety of opportunities to explore big cities, enjoy great concerts and stage performances, sample regional foods - and volunteer to help others in need. Check out where our students went and what they did!
Honors Program / WPPJ Radio Members: New York City
A group of 30 students (Honors Program, School of Communication, broadcasting, fashion club and sports, arts and entertainment management club) traveled by bus to New York City for a five day-trip that combined networking, volunteer work, entertainment and sightseeing. Accompanying the students were Lisa Patterson, coordinator of student engagement, Teresa Gregory, M.F.A., CFRE, assistant professor of sports, arts and entertainment management, and David Fabilli, professor of broadcasting. The broadcasting students attended the 75th Annual Intercollegiate Broadcasting System Conference and College Radio Awards.
While in New York City, students stayed at Hotel Pennsylvania, attended a networking reception with Point Park alumni, saw the Broadway musical On the Town (featuring former Point Park student Tony Yazbeck), did a volunteer activity and workshop with Materials for the Arts, and met with Monroe College Honors Program students for a City as Text exploration to visit and explore landmark buildings. They also visited the National September 11 Memorial & Museum, the Empire State Building, the Brooklyn Bridge, St. Patrick's Cathedral, Grand Central Terminal, Rockefeller Center, BET Networks and more.
In their free time, some students landed V.I.P. tickets to see Maroon 5 performing at Madison Square Garden and were within arms distance to lead vocalist Adam Levine. Other students enjoyed taking selfies at The Pulitzer Fountain in the Grand Army Plaza, the fountain that appears in the opening credits in the Friends television series.
Student Life Habitat for Humanity Volunteers: New Orleans
A group of 11 students headed to Lafayette, La., for nine days to explore the New Orleans area and volunteer at a Habitat for Humanity work site, helping build new homes for those in need. They were accompanied by Sarah George, director of student engagement.

At the housing work site, the students contributed 429 hours of manual labor including hanging siding, assembling fascia, and installing hurricane brackets and trim. They also assisted at the organization's Lafayette office with painting trim and clean-up work - and made an $1,800 contribution to the group. Point Park students were interviewed by a Baton Rouge TV station for a story about college students spending spring break doing volunteer work.

During their downtime, the students spent a day in New Orleans, enjoying beignets at Café Du Monde, sightseeing on Bourbon Street and visiting voodoo shops. A swamp tour near Baton Rouge gave the students a chance to get up close and personal with bayou wildlife, including alligators.
Student Accounting Association Members: New York City
For eight student members of Point Park's Student Accounting Association, where else to go during Spring Break but New York City, one of the world's great financial centers? The students were accompanied on the three-day trip by Amy Cesario, C.P.A., M.B.A., SAA advisor and visiting assistant professor of accounting.
The group stayed at the International House of New York and toured both Wall Street and the Financial District. The students also explored other destinations in New York City, including the Metropolitan Museum of Art, Times Square, Ground Zero, National September 11 Memorial & Museum, Chinatown, Central Park and Rockefeller Center.
More About: spring break, WPPJ, Student Accounting Association, Honors Program, student trips