more news
Her Campus Point Park Provides Real-World Experience, Networking Opportunities for Students
Friday, August 21, 2015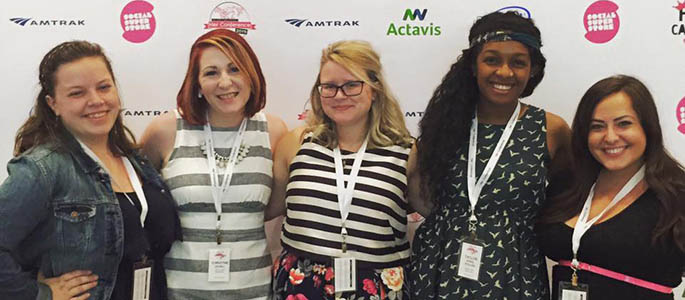 (L-R) Rebekah Mohrmann, Christine Schell, Victoria Mikula, Taylor Akins-Rollins and Cassi Stovash.

Four Point Park students and an alumna networked with media professionals at the annual Her Conference in New York City, July 25-26. The conference is hosted by Her Campus, a worldwide online community for college women.

The students have been active in Point Park's Her Campus chapter, formed in 2013 as a student organization. The centerpiece of Her Campus is an online magazine written by college journalists. Each participating chapter, including Point Park, has its own website with unique articles, blogs and photos.
This year's conference featured keynote presentations from Michelle Tan, editor-in-chief of Seventeen magazine, Terri McCullough, director of No Ceilings: The Full Participation Project, and Neha Gandhi, vice president of editorial strategy at Refinery29.
Workshop topics included careers in social media, the business of blogging, creating an online portfolio, leading ladies in tech and how to land your dream job.
Below, the students and alumna share their experience at the conference.
How did your involvement in Her Campus help you through your first year of college?
Her Campus helped me make some great friends and gave me so many opportunities. I was able to network with professionals in my field right from the start and attend amazing events such as Her Conference! It really helped me get accustomed to a new school and a new city and made me feel welcome at Point Park. I can't wait to see what's next for me during college! - Rebekah Mohrmann, a sophomore sports, arts and entertainment management major; Her Campus graphic designer and social media manager
As a past conference attendee, what have you gained from this experience and how will it will benefit the chapter members?
The conference gives us the chance to attend seminars with highly successful people that we admire in our prospective industries; I'm not sure where else I'd have the opportunity to get real face-to-face advice from industry professionals.
As a graduating senior this December, I've had a lot of anxiety and questions about what my life has in store when I complete my degree, but my mind was put to ease after attending this conference. - Cassi Stovash, senior SAEM major; Her Campus Point Park founder
How has your involvement in Her Campus been a beneficial experience for you?
The conference was extremely helpful. I learned a lot and am really optimistic about my future. Even though I'm not a communication major, I've always loved writing. I've always wanted to write my story and my views for someone but I never knew where. Her Campus helped me find that outlet and helped me figure out what I really want to do. - Taylor Akins-Rollins, a senior international business major; Her Campus radio show host, campus outreach coordinator, social media manager and section editor
As a recent alumna, how did Her Campus help you after graduation and how did you benefit from the conference?
Being a part of Her Campus during my time at Point Park gave me an outlet to share my writing and gain experience that employers have recognized in interviews. Whenever asked for writing samples, I can directly link to my Her Campus online portfolio.
Her Conference provides graduates an opportunity to network with industry professionals and seek advice on not only how to land an entry-level position, but how to maintain that position and navigate to the next level. - Christine Schell, sports, arts and entertainment management alumna, 2015
Article by Victoria A. Mikula, junior, mass communication major; Her Campus correspondent and editor in chief
More About: mass communication, business management, sports, arts and entertainment management, student trips