more news
Pioneer Perks: Student Discounts in Downtown Pittsburgh
Wednesday, August 21, 2019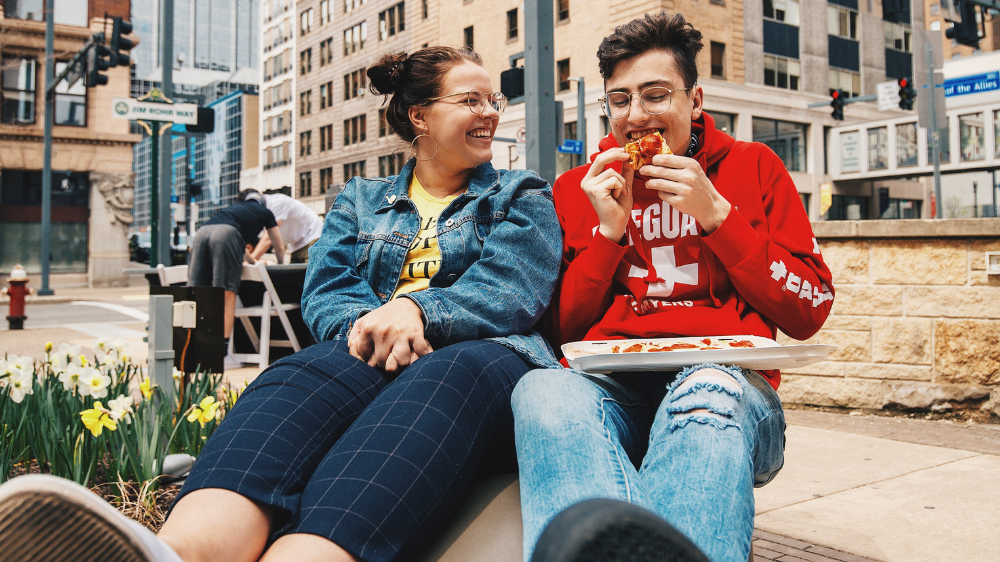 Being a college student can be tough on your bank account. Thankfully, businesses in Downtown Pittsburgh understand your #CollegeStudentProblems and offer savings with a valid student ID. Here are the best places around town to save some money.
Food
A new restaurant in Market Square, Wolfies Pub is an all-American, family-friendly establishment featuring live entertainment throughout the week. Point Park has partnered with Wolfies and some University memorabilia is on display in the restaurant. Students get 15% off and Point Park grads can enjoy the VIP alumni room.
Pioneers can agree: Mandarin Gourmet is a local favorite for Chinese cuisine. Conveniently located next to our Center for Media Innovation, students get 10% off with your Point Park ID -  and you can buy more crab rangoons with that savings.
Coffee and college students go together like peanut butter and jelly. Gloria Jean's Coffee on Smithfield Street offers a 10% discount to Point Park students. #CaffeineOrBust
Pizza Fiesta is a local favorite and attracts students with their college special - a large cheese pizza, a box of breadsticks and a liter of pop for $13.99. Late night cravings: satisfied.
Millie's is a Pittsburgh classic and this ice cream tastes a little sweeter with 25% off for Point Park students. Indulge in some of their signature flavors like vegan dark chocolate or Chad's vanilla at their Market Square location.
Activities
Learning about Pittsburgh's history at the Heinz History Center in the Strip District is always fun, but even more so when you get free admission. Explore five floors of exhibits highlighting Pittsburgh's history, culture, food and sports.
Andy Warhol was a leading figure in pop art history and has a strong legacy in Pittsburgh. Students get free admission to this seven-floor museum that explores different decades of Warhol's art.
There are no mattresses, but there are some amazing art exhibits on display at the Mattress Factory in the North Shore. Point Park students get free admission to this interactive museum.
Pittsburgh is home to world-renowned theatres and Point Park students can take advantage of discounted tickets to their favorite shows.
Stage AE is Pittsburgh's North Shore concert venue and students can score cheap tickets to a show through our Student Activities, Involvement and Leadership (SAIL) office.
Take me out to the ballgame! The SAIL office sells discounted Pirates tickets throughout the season. Enjoy a night at PNC Park with breathtaking city views behind the stadium.
 Join the 'Rush' this season at PPG Paints Arena! Text RUSH to 32623 to receive GNC Student Rush alerts prior to each home game. Each text includes the chance to win two free tickets and a link to purchase discounted student tickets. 
Pittsburgh is your campus and we invite you to explore as much of it as you can. Knowing where you can save a few dollars with a student discount makes enjoying our city a little bit easier to do. Try one (or a few) of these destinations and tag us on Twitter or Instagram @PointParkU.
---
Text by Rhianna Davis, senior business management major
More About: Downtown Pittsburgh