more news
Point Park honors veterans with campus ceremony
Wednesday, November 12, 2014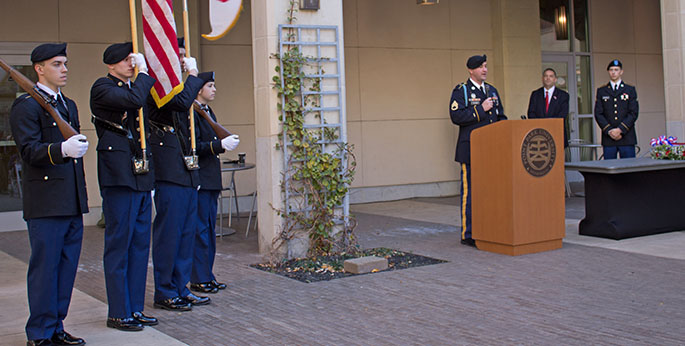 Point Park students, faculty, and staff members gathered in the University's Village Park under clear blue skies on Veterans Day, Nov. 11, to pay tribute to those who have served in our nation's armed forces.
"This is a special day for our veterans," said Keith Paylo, associate vice president of student affairs and dean of students. "Each year, we get the opportunity to say 'thank you' to our veterans, and how much we truly appreciate their service to our country."
Point Park has 160 veterans currently enrolled in a wide range of undergraduate and graduate degree programs. The total includes 130 who are receiving education benefits through the Post 9/11 GI Bill®. In addition, a number of Point Park faculty and staff members are veterans.
As part of the Village Park observance, a color guard of ROTC students from Point Park and Duquesne University presented the colors, then musical theatre major Melessie Clark sang the national anthem acapella.
Veterans in the crowd were invited to step forward to receive a red, white and blue lapel ribbon in recognition of their service.
Pa. National Guard Staff Sgt. Conrad Slyder, the Army ROTC representative for Point Park, Duquesne and the University of Pittsburgh, shared his recollection of being a young U.S. Army private stationed in Washington, D.C. on Sept. 11, 2001. His unit assisted with recovery operations at the Pentagon after one of the airliners hijacked by terrorists crashed into the building.
"I was honored to serve that day, and have continued to serve from that day," he said. "I love that events like this bring all of us out here, and I'm proud to be out here with you. I'm proud of Point Park and its efforts on this Veterans Day."
Following his remarks, Slyder and Gary Bracken, a U.S. Army veteran and Point Park's vice president of enrollment management, presented a red, white and blue floral wreath in honor of veterans living and deceased. Trumpeter Omri Barak, a senior at Pittsburgh CAPA, played taps to conclude the ceremony.
Photos by Victoria Mikula, sophomore photojournalism major