more news
Point Park president leads bike ride to teach students about Pittsburgh
Monday, September 1, 2014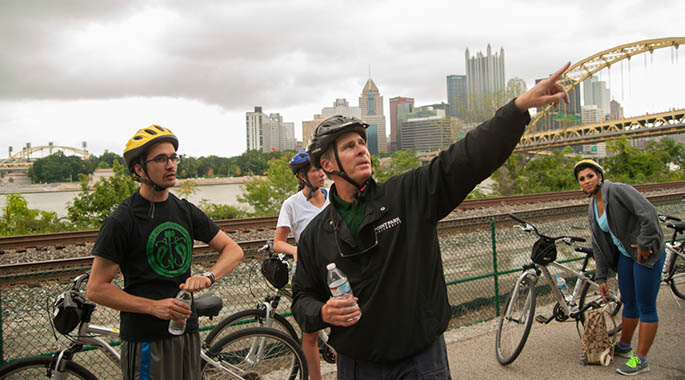 Point Park President Paul Hennigan points out a feature of Pittsburgh during a stop along the 17-mile route on this year's bike with students. More photos on Point Park's Facebook page -- view and share!

In what has become a Point Park tradition, President Paul Hennigan led students who are part of the University's residence hall staff on a bike ride through the heart of Pittsburgh and along its rivers ahead of a new academic year.
For Hennigan, the annual bike ride is a chance to bond with the students who will be working with and mentoring their peers in Point Park's five residence halls.
For the students, it's a Pittsburgh history lesson and an opportunity to become acquainted the city's nearby recreational trails -- then share all their new knowledge to help other students make the most of their college years in Downtown Pittsburgh.
More than 20 students, from sophomores to seniors, took part this year.
As in past years, Hennigan's ride was preceded by two meetings with the students covering where they would go and what they would see. During the second get-together, the students gave short presentations on the historical significance of buildings, locations and stops along the ride.
The group set out on Aug. 13 when the students met Hennigan at Golden Triangle Bikes in Downtown Pittsburgh. The group followed a 17-mile route through Downtown, the South Side, Station Square, Point State Park, the North Side and Washington's Landing.
The riders stopped for a group photo on Washington's Landing, where they also were treated to lunch at Redfin Blues, a restaurant along the Allegheny River.
News Media Coverage
KDKA-TV: Point Park President leads students on bike tour of city
More About: Downtown Pittsburgh, student trips