more news
Point Park remembers 9/11 with Flight 93 presentation, candlelight vigil
Monday, September 15, 2014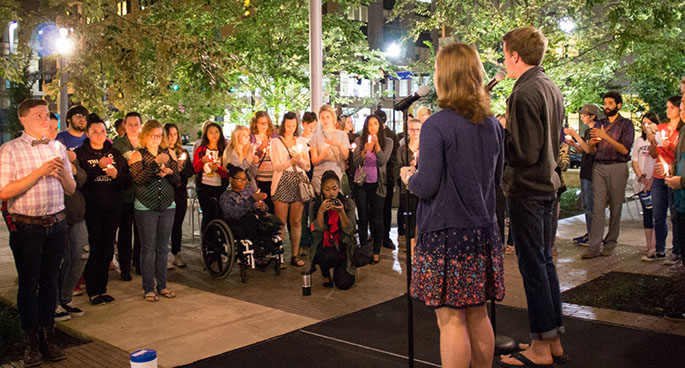 Students take part in a candlelight vigil in Village Park to commemorate the 13th anniversary of the 9/11 terrorist attacks. More photos on Facebook.
Point Park observed the 13th anniversary of the Sept. 11 terrorist attacks with a poignant presentation about Flight 93, the jet that crashed into a Pennsylvania field near Shanksville, followed by a solemn candlelight vigil in Village Park.
Alumnus Tom McMillan, vice president of communications for the Pittsburgh Penguins and co-founder of the Pittsburgh Center for Sports Media and Marketing, described what happened on Flight 93, which went down after passengers challenged terrorists for control of the plane.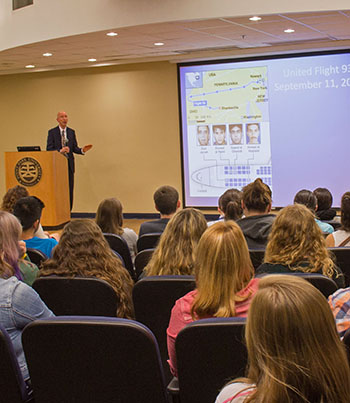 McMillan, who has volunteered extensively at the Flight 93 Memorial, is the author of "Flight 93: The Story, the Aftermath and the Legacy of American Courage on 9/11."
Speaking to a rapt audience in the JVH Auditorium, McMillan shared the stories of Flight 93 passengers - who they were, why they were traveling to San Francisco, and what they said to family and friends in their final cell phone calls. He also described the terrorists - who they were and what they had planned. McMillan said he decided to write the book after getting to know the victims' families and Shanksville residents during his volunteer work.
"I felt like I had to do it. There's so much information out there that nobody knows about," McMillan told the crowd. "Those stories are out there, but they haven't been put into context."
Following McMillan's presentation, about 50 students gathered in the Village Park to light candles in memory of those who died in New York City, Washington, D.C., and Shanksville 13 years ago.
At the park, the students shared quiet, reflective moments. Musical theatre majors Patrick Sisson and Danielle Cohen sang "Amazing Grace." Students Audrey Eisentrout and Taylor Hornung offered a prayer, then Sisson and Cohen sang "America the Beautiful" to conclude the gathering.
McMillan's presentation and the candlelight vigil were sponsored by the Point Park's Honors Program and the Campus Activities Board.
Reporting and photos by Victoria A. Mikula, sophomore photojournalism major.