more news
Point Park students give back to Pittsburgh with day of volunteer work
Thursday, May 14, 2015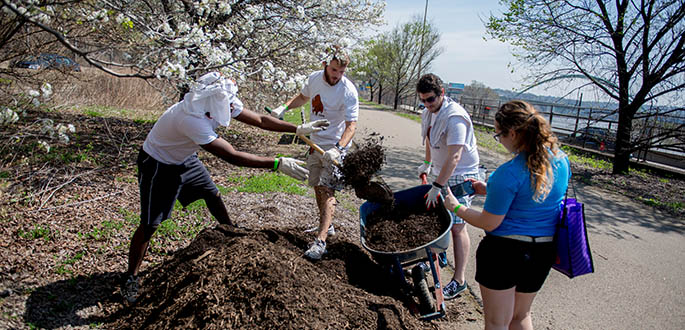 More than 150 Point Park students came out on a sunny Saturday to volunteer their time for the University's fifth annual Pioneer Community Day, a one-day event that combines community service with fun activities, all to let students contribute their time to Downtown Pittsburgh.
"It's a good chance for our University to give back to our community. It's important to have a good reputation in the community since Downtown does so much for us," explained Kelsey Veydt, senior sports, arts and entertainment management major and co-chair of the Pioneer Community Day committee for United Student Government.
For this year's Pioneer Community Day, held April 18, students began the morning lining up along the sidewalk on the Boulevard of the Allies to register for a volunteer assignment.
USG provided breakfast and beverages to students before they headed out to assist one of four community organizations: Friends of the Riverfront, Western Pennsylvania Humane Society, Hosanna House and Pittsburgh Downtown Partnership.
Abigail Cagle, a sophomore acting major and community facilitator in Lawrence Hall, went with a group of other residence hall staff members to volunteer for the PDP, cleaning trashcans and freeing the streets from litter.
"It's a part of residence life, so this is one event we encourage our floors to participate in," Cagle said.
"Personally, I always enjoy community service [and] I love that Point Park gives back," said Nathan Keenan, senior broadcast production and programming major and general manager of Point Park University's radio station WPPJ.
As the vice president of the Rugby Football Club, Keenan pushes the club members to be more involved.
"A lot of people on the team like volunteering and helping out with the community," said Keenan, who helped spread limestone next to the bike trail at the Friends of the Riverfront site.
After completing their volunteer field at the various sites, students returned to campus for more community service activities - along with food and music - in Village Park. Students could make no-sew blankets to be donated to Children's Hospital and create cards to be given to veterans. Proceeds from a dunk tank and a raffle were designated to support finding the cure for cancer.
"I just wanted it to be a fun day for everyone," Veydt said. "It's the end of the year and a day to come together as a University and enjoy ourselves."
Article by Kariann Mano, junior PR and advertising major
More About: Pittsburgh, Pittsburgh Downtown Partnership, United Student Government, volunteer work