more news
Point Park Welcomes Largest Freshman Class in University's History
Tuesday, September 16, 2014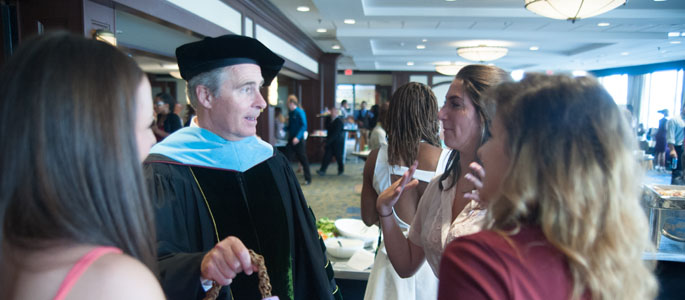 Point Park President Paul Hennigan talks with freshmen students at the University's Convocation ceremony Aug. 22.

Point Park is welcoming the largest freshman class in the University's history for fall semester, with 633 U.S. and international students starting their college careers on campus in Downtown Pittsburgh. This year's freshman class is 18 percent higher than fall 2013, when Point Park had 535 new U.S. and international first-year students.
The previous record high freshman class for Point Park was in 2010 with 537 U.S. and international incoming students.

The new first-year students come from 35 states and 10 foreign countries. Those from Pennsylvania represent 43 out of 67 counties. Of the total, 401 freshmen students are female and 232 are male. Nearly 200 were honor roll students and 136 were members of the National Honor Society.

In addition to the freshmen, Point Park welcomed 277 transfer students (140 male and 137 female students) from 18 states and 10 countries.
After arriving on campus, new students took part in First Year Frenzy (see photos), a full slate of food, fun and socializing designed to acquaint them with their new campus, Downtown Pittsburgh and each other. They also attended Convocation, the University's official ceremony to open the academic year, then went on Point Park's traditional evening boat ride along Pittsburgh's gorgeous rivers.
With the incoming freshmen, Point Park has more than 3,700 total students enrolled this fall in more than 80 undergraduate majors and academic programs, 17 master's degree programs and one doctoral program.
The University has approximately 50 student clubs and organizations on campus and 13 men's and women's varsity sports teams including track and field, new for the 2014-15 school year.
In addition, Point Park has more than 20,000 alumni in all 50 states and 33 countries around the world.
Welcome to our new students — welcome back to our returning students — and best wishes to all for a terrific year at Point Park!
Additional facts about the Class of 2018
Average GPA: 3.22
Average SAT score: 1480
Average ACT score: 22
Five most popular majors:
Theatre arts
Dance
Sports, arts and entertainment management
Cinema production
Business management
Connect With Us on Social Media




More About: Downtown Pittsburgh, Convocation, First Year Frenzy