more news
Students enjoy international treats, crafts and Brazilian drum music at spring festival
Friday, March 27, 2015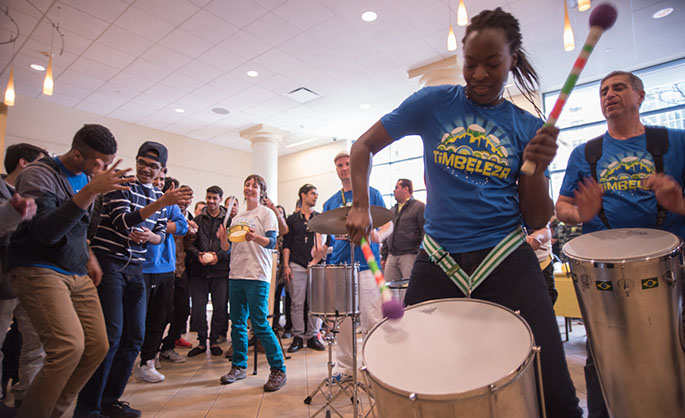 Point Park students from across the U.S. and around the globe welcomed spring at a colorful, flavorful - and very loud - celebration that had Lawrence Hall lobby hopping to the rhythms of a Brazilian drum band.
This year's Global Festival Celebration, held March 19 by the Office of International Student Services and Enrollment, featured foods and crafts from Brazil, China, India, Israel and Sri Lanka, all to celebrate the end of winter and return of spring.
"After the winter we have had, nothing says spring more than a party," said Rebecca Lee, ISSE director. "It's like we bring in the fresh air with great music, some wonderful dishes to sample and good friends to laugh with. It is the same recipe for a good party all over the world -- it's another way to show we are all connected."
Point Park has 158 international students from 36 countries, attracted by the University's small size, wide variety of academic programs, and urban location in Downtown Pittsburgh, a world-class city.
At this year's celebration, international students and U.S. students sampled foods spring rolls from China, samosas and pekora from India, kiri bath and chutney from Sri Lanka, and hummus with bread from Turkey.
Students decorated masks in feathers and glitter the style of Brazil's Carnaval, wrote their names on Chinese characters on paper lanterns, and jotted wishes on ribbons to tie on a Turkish wish tree.
International student Shayna Mendez, a sophomore photojournalism major from Jamaica, helped put on the event, manning the Chinese table as students sampled spring rolls. She found time to try a few crafts and taste some of the international treats.
"Not even going to lie - some of the food looked weird but once you got past that and actually tried it, the food tasted super good," she said.
For Mendez, the highlight was the performance by Timbeleza, a Pittsburgh band that specializes in Brazilian percussion music - and encourages audience participation. Students stepped right out to dance to the rhythms.
"We saw a glimpse of two different cultures and at the same time how seamlessly the students - both international and non international - enjoyed the performances and were able to walk away with a better understanding of both," she said.
"It's always wonderful to see students dancing and having a great time," added Lee. "Music made the celebration - it's the universal language."
Interactive Map: Point Park International Students, Spring 2015
Select or mouse over countries in green to see the number of international undergraduate and/or graduate students currently attending Point Park.
Photos by Chris Squier, senior photojournalism major