more news
Students face off in annual cake decorating competition
Friday, December 12, 2014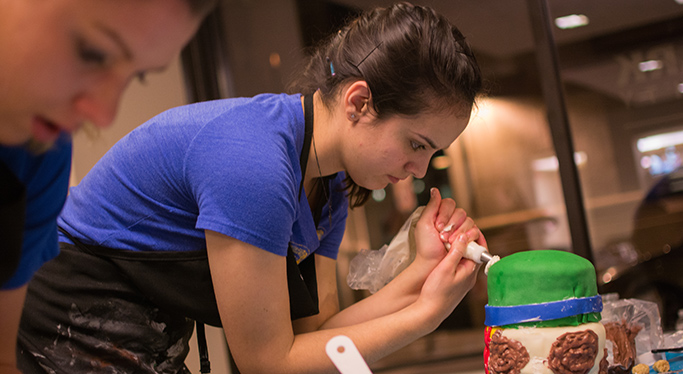 View and share more pictures in our photo gallery on Facebook.
In what has become an annual tradition, Point Park students went head-to-head using cake, frosting and creativity at this fall's Cake-Off, a fun - and sometimes messy - event in which teams compete to create the most compelling decorated cake within a designated theme. This year's theme: Disney Pixar movies.
The Cake-Off, held by Point Park's Campus Activities Board, took place in the West Penn Hall lobby and began with a tutorial by a professional cake decorating artist from Grandview Bakery. Each team of students received cake and decorating supplies including fondant, buttercream icing, chocolate chips, food dye and sprinkles.
Three teams then set to work to design and construct cakes featuring characters from selected Pixar movies - "Finding Nemo," "Toy Story" and "Monsters, Inc."
The event was a great opportunity for students to have fun and relax just before finals week.

"We are making a mess and it's kind of a disaster," said Jo Weber, senior education major. "It is a lot of fun and we're just laughing the whole time."
A panel of University staff members judged the cakes based on appearance and creativity, selecting a "Monsters, Inc." creation as the winner.
The winning team members were: Derrick Mitchell, freshman economics and finance major; Katie Weinstein, freshman musical theatre major; Josie Widing, freshman business management major; Jason Irwin, freshman business management major; and Jackie Gonzalez, sophomore acting major.
Each team member received a Disney Pixar DVD and movie theater-style candy.