more news
Walking Tour Educates Point Park Freshmen about the History of Downtown Pittsburgh
Thursday, September 18, 2014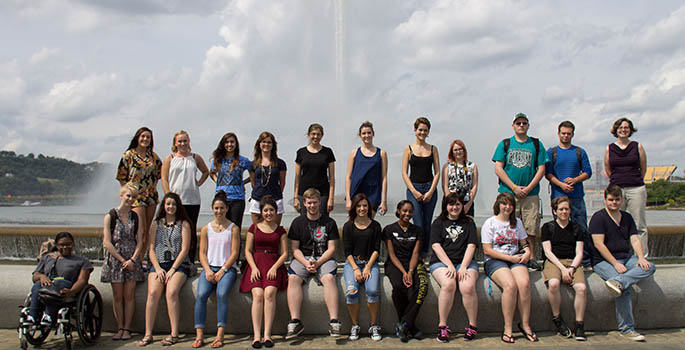 Students at the fountain in Point State Park, just a few blocks from campus.

Point Park University freshmen are enrolled in a new core curriculum course this semester - City-University Life - to help them develop key skills for success as a student in a diverse urban community.
One of the class sections, led by Jehnie Reis, Ph.D., assistant professor of history, explored Downtown Pittsburgh's rich history firsthand during a walking tour through the city.
On a beautiful sunny day, Reis and 22 students took a short walk from Point Park's campus to PPG Place, Market Square, Fort Pitt Blockhouse and Point State Park. At each stop, Reis pointed out the historical landmarks and spoke about the history of the city.
"This was the first time I left campus to explore the city and it's absolutely beautiful. It's so cool that we get to learn more about the history of where we will be living for the next four years," said Lauren Marshall, a sports, arts and entertainment management major from Buffalo, N.Y.
Students separated into groups to take photos of what they discovered in the city that defines business, community and history. The class then met for a break at the Point to group their images:
Business: Highmark, Del Monte Foods, Pittsburgh Post-Gazette, Primanti Brothers
Community: Young adults playing frisbee at Point State Park, Downtown professionals eating lunch in Market Square and PPG Place, Segway tours, people dressed in Pirates apparel walking through town
History: Fort Pitt Blockhouse, blue historic landmark plaques, old buildings, the Golden Triangle
"The walking tour was a fun way to learn about the history of Pittsburgh and spend time with new friends," said Kyle Knauss, a criminal justice major from Bethlehem, Pa.
Classmate Tabea Dalliard, a sports, arts and entertainment management major from Switzerland, agreed.
"I love everything about Pittsburgh. It's so important to learn about the city you live in, especially for me because I am new to the area. I love the people and I love how there are so many things to do so close to campus. There's always something going on," Dalliard said.
Photos
Photos by Victoria A. Mikula, sophomore photojournalism major
More About: City-University Life, Pittsburgh