more news
10,000 Friends of Pennsylvania Honors Point Park With "Community Transportation Excellence Award"
Friday, December 7, 2012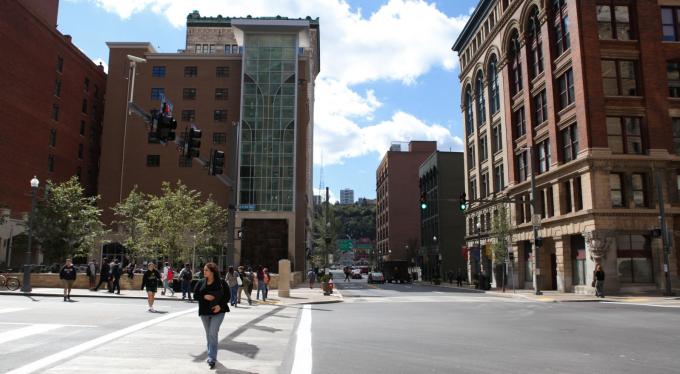 Point Park University has received a "Community Transportation Excellence Award" in recognition of the University's Wood Street Corridor project from a statewide group that promotes smart growth, such as responsible and efficient land use.
10,000 Friends of Pennsylvania honored its 2012 Commonwealth Awards recipients, including Point Park, at a Dec. 5 event held on the University campus. The awardees were chosen for projects that contribute to building healthy communities. University Architect Elmer Burger accepted the award on behalf of Point Park.
10,000 Friends works with citizens, organizations, and public officials to create land use, infrastructure and governance policies, projects and practices that protect resources, strengthen the economy, and improve quality of life. The Commonwealth Awards honor smart growth projects from across Pennsylvania.
The Wood Street Corridor project is part of the Central Campus Development component of the Academic Village Initiative. In 2009, Point Park was awarded a $3.95 million grant from the Pennsylvania Community Transportation Initiative for upgrades and enhancements to the Wood Street Corridor.
The grant funded such improvements as new trees, milling and resurfacing of the street, installation of accessible sidewalks and curbs, the addition of distinctive pedestrian-scaled street lighting and new and efficient signaling systems at the intersections with the Boulevard of the Allies and Third Avenue. The project was completed in the fall of 2012.