more news
Highlights from The Point, Spring 2019
Friday, April 19, 2019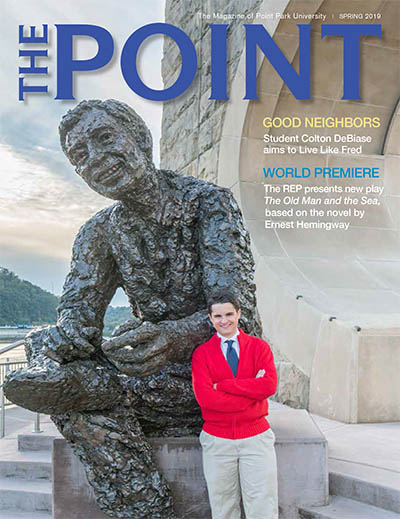 The Spring 2019 issue of The Point, the magazine of Point Park University, is now available on campus and online.
Highlights include:
Also read about:
Sales Force: SAEM students boost ticket sales for the world premiere of The Old Man and the Sea and the Cleveland Cavaliers;
Led by national champion Anna Shields, track & field and cross country Pioneers are on a roll;
And an alumnus remembers campus radio station WPPJ during the early years of hip-hop.
Share your alumni news in a Class Note, or share your feedback and ideas at thepoint@pointpark.edu.
More About: sports, arts and entertainment management, Pittsburgh Playhouse, School of Communication, The Point, Conservatory of Performing Arts, faculty, athletics, WPPJ, cinema arts