more news
Inside The Point Magazine's Summer 2019 Issue
Friday, September 6, 2019
The Summer 2019 issue of The Point, the magazine of Point Park University, is available on campus and online.
This is the final print issue of The Point, which will be moving to an all-digital version in Fall 2019.
Highlights include: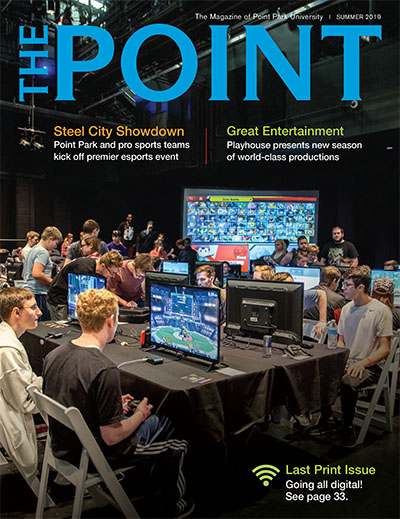 Steel City Showdown: Point Park and pro sports teams join together to kick off the first major esports event in Pittsburgh's history.
Going Green: School of Education students gain professional skills and cultural experiences while serving as student teachers in Ireland. 
True Pioneer

: Anna Shields, Point Park's most-decorated student athlete, graduates and runs toward her professional dreams.  
Also read about:
Share your alumni news in a Class Note, or offer your feedback and ideas anytime at thepoint@pointpark.edu.
More About: School of Communication, education, study abroad, athletics, Rowland School of Business, Pittsburgh Penguins, alumni, student trips, The Point, esports, Pittsburgh Playhouse