more news
Academic Village showcased on Downtown economic development tour
Friday, May 17, 2013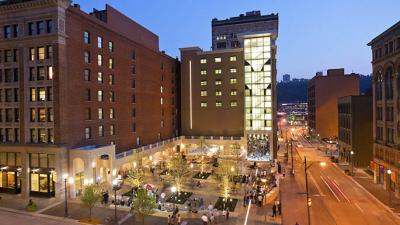 Point Park's success in building a vibrant living and learning hub in Downtown Pittsburgh will be highlighted as part of a tour showing the central business district's transformation into a bustling neighborhood where people live, work and play around the clock.
The Pittsburgh Community Reinvestment Group is bringing a mobile workshop to campus on Tuesday, May 21, to learn about Point Park's Academic Village Initiative, a multi-year, $244 million investment that has included the Wood Street Corridor revitalization work and the dynamic new Village Park.
The next phase of the Academic Village is relocating the legendary Pittsburgh Playhouse from its longtime location in Oakland to a new home Downtown on Forbes Avenue. Plans call for a six-story teaching and performance venue that will provide world-class professional spaces for everything from classical to unconventional productions. President Paul Hennigan describes the Playhouse project in the latest issue of The Point magazine.
At Point Park, the PCRG mobile workshop will visit Osteria 100, a casual Italian eatery on campus, to hear about the Academic Village Initiative and Point Park's work with the surrounding neighborhood.
In other stops Downtown, the mobile workshop will visit a theater, new residential developments, retail and restaurant destination hot spots, and feature other key stakeholders who are playing an essential part in the revitalization of Downtown.
The mobile workshop is part of PCRG's Third Annual Community Development Summit, which will bring more than 500 community and economic development professionals, lenders, public officials, developers, architects, planners, researchers and neighborhood volunteers to Pittsburgh from across the country. The summit will explore new ideas and emerging themes in organizational development, community planning, land recycling, affordable housing, transit-oriented development and neighborhood revitalization.