more news
Agriculture Secretary Tom Vilsack visits Point Park campus
Monday, September 19, 2011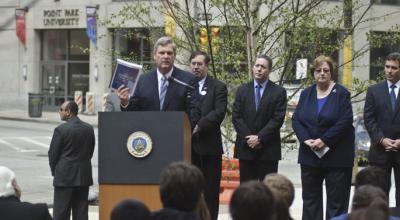 Point Park welcomed U.S. Secretary of Agriculture Tom Vilsack to campus on Sept. 16, as he gave a public address about the country's employment challenges.
Vilsack, a Pittsburgh native who served as governor of Iowa, spoke in Point Park's new Urban Park, unveiled by the University only two days earlier. He was in Pittsburgh to promote President Barack Obama's American Jobs Act proposal.
"It's great to be back in Pittsburgh," Vilsack told the crowd, which included Point Park many students and faculty members as well as Western Pennsylvania news media. Point Park student journalists also covered the event.
"I'm here today, and I thank Point Park University, to simply talk to you about the most urgent need this country faces, which is the need to put people back to work," Vilsack said.
He cited the new Urban Park, which has transformed the corner of the Boulevard of the Allies and Wood Street from a parking lot into a vibrant outdoor space, as an example of projects that provide much needed jobs.
"This is a beautiful new area. This is an example of a group of folk at Point Park and in Pittsburgh who believed in a brighter future," he said. "Point Park can be proud of this project and I look forward to coming back in a couple years to see the additional improvements in this area."
Vilsack also addressed the many students in the audience, encouraging them to participate in public policy discussions.