more news
Alpha Chi Honors Society Chapter Welcomes New Members
Wednesday, April 28, 2010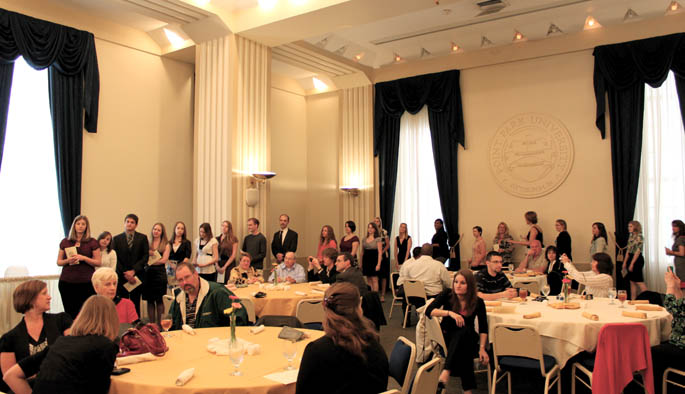 Students line up in the Lawrence Hall ballroom as they are inducted into the Alpha Chi National College Honor Society. Below: Prof. Don Keller welcomes Janette Maple, an integrated marketing communications major, into Alpha Chi.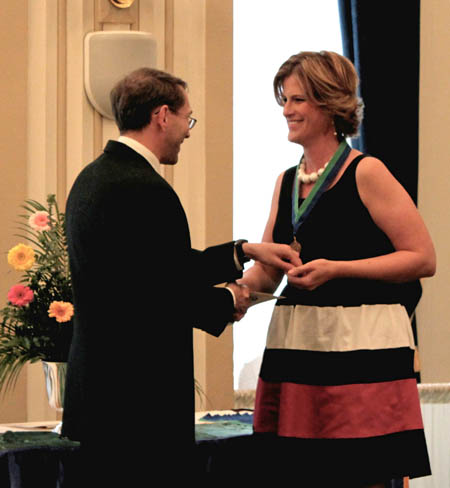 Point Park invited 55 students to join its Alpha Chi National College Honor Society chapter. The official induction ceremony was held on Friday, April 16th in the Lawrence Hall Ballroom.
Nominated junior and senior students are selected because of their outstanding grade point averages, according to Helen Fallon, honors program director, and Donald Keller, Ph.D., chapter advisor. Alpha Chi promotes academic excellence and exemplary character among university and college campuses. An invitation to membership is extended to those who rank in the top 10 percent of their classes and achieve high distinction among the community.
Fallon, Keller and Laura Frost, Ph.D., assistant director of the honors program officiated at the ceremony. Karen McIntyre, Ph.D., vice provost and dean of faculty, offered congratulatory remarks on behalf of the University.
The following students are this year's inductees:
Crystal M. Beck
Jena S. Bence
Rachael L. Berube
Adelyn L. Biedenbach
William L. Brunner
Douglas J. Burek
Marcy Byrne
Emily A. Cain
Rosemary N. Coombs
Faith S. Cotter
John A. Dallas
Daniel T. Diley
Terry E. Dougan
Chelsey N. Engel
Colleen N. Ferguson
Angela Geither
Meghan M. Ginley
Shonica J. Gooden
Devon C. Gregg
Elizabeth B. Grimminger
Abbie R. Heigel
David R. Heinz
Ashley N. Henderson
Eliza R. Hudson
Thomas J. Hultz
Sheila A. Jeffries
Sheena M. Johnson
CrystalAnn Jones
Carl J. Kovach
Michelle R. Labash
Sutton E. Lenhart
Janette A. Maple
Melissa A. May
Jessica A. McMahon
Amanda E. Meyers
Abigail S. Neely
Angela C. Nelson
Tina M. Paluti
Aaron T. Roupe
Jennifer A. Russell
Wido A. Sagerer
Bridget N. Scheiner
Teresa J. Scholze
Francesco R. Sebastiani
Dominique S. Shurtz
Denita L. Smith
Meagan F. Stroud
Desiree L. Taylor
Richard G. Venezia
Stefania Vitale
Marcie L. Wallace
Nikki L. Wallace
Raymond J. Wimple
Joshua J. Winter
Jessica Yacobucci
Written by Zoë Sadler, freshman, advertising and public relations major
Photos by Camelia Montoy, freshman, photojournalism major