more news
Claussen Named Visiting Faculty at IE University (Spain), Presents Three Lectures
Monday, November 30, 2009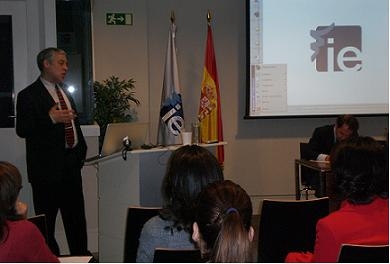 Dr. Dane S. Claussen, Professor & Director of Graduate Programs & Faculty Development, School of Communication, Point Park University, has been named also a Visiting Professor at IE University, Segovia and Madrid, Spain.
In his first work at and for IE University, Dr. Claussen presented three lectures at the University on November 25-27, 2009. On Friday, November 27 at the IE Business School campus in Madrid, he presented, "How the United States Leads Corporate Communications Education Worldwide, and Why That's Still Not Good Enough" to DirCom, Spain's largest professional association of corporate communications and other public relations professionals.
On Wednesday, November 25, Dr. Claussen presented a lecture to the faculties of the IE School of Communication and IE Business School, "Mass Media: The 'Other' Most Mismanaged U.S. Industry (Besides Airlines & Autos)," also at the IE Business School campus in Madrid. On Thursday, November 26, Dr. Claussen presented a lecture, at IE University's main campus in Segovia campus, to undergraduate communication and business students, "Storm und Drang: Myths and Realities of Today's U.S. News Media." All three lectures were followed by spirited and lengthy question-and-answer sessions.
While in Madrid and Segovia, Dr. Claussen also consulted with the IE School of Communication dean, other administrators, and faculty members about: the IE School of Communication curriculum; possible academic accreditations for the IE School of Com-munication; student recruitment tactics for the IE School of Communication; and potential faculty and/or student exchange programs between Point Park University and IE University.
Dr. Claussen, a Fulbright Specialist, is Editor of Journalism & Mass Communication Educator, the international, refereed, quarterly journal published by the Association for Education in Journalism & Mass Communication. He assembled the first international editorial board in the journal's 60+-year history. Dr. Claussen's other international work has included designing a model business journalism curriculum for university journalism programs in Bangladesh, and serving on the Editorial Boards of the scholarly journals, AsiaPacific Media Educator and Australian Journalism Review (among many others). He participated in the first World Journalism Education Congress in Singapore (June 2007); participated in a UNESCO conference on the future of African journalism education in South Africa (March 2008); presented a paper at a children and media conference at Shanghai International Studies University (October 2008); attended the 2nd European Communication Research & Education Association Conference in Barcelona (November 2008); and attended the Beyond East-West media conference at Central European University, Budapest (June 2009).