more news
Companies Take Advantage of Point Park's On-site MBA Program
Thursday, October 15, 2009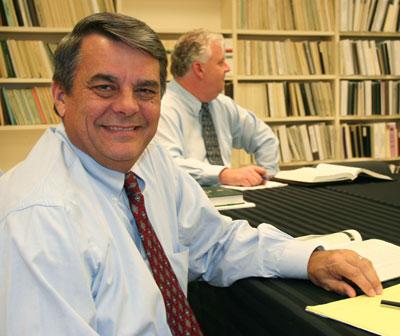 Building on a history of program options developed to meet the needs of local organizations and businesses, Point Park University is now offering a flexible, on-site MBA program through the School of Business. Full-service engineering firm GAI Consultants, Inc. and United States Steel Corporation are the first area companies to take advantage of this program through Point Park.
"As a University, we pride ourselves on delivering the highest quality education for our students in a way that fits their life and schedule," said Angela Isaac, Ph.D., dean of the School of Business. "We are pleased to offer a tailor-made program that focuses on these companies' specific academic needs and in a format that is most convenient for their employees."
The MBA program at Point Park University is a 36-credit program, designed in response to the needs of working professionals. The University works with the firm to craft a program that focuses on their particular needs, timing, and duration. Professors instruct on-site for optimum convenience. All courses also have the option of an on-line component, with connectivity provided by the company.
Upon completion of the on-site MBA, participants will have earned a Masters in Business Administration through the management stream.
Ultimately, Point Park's School of Business strives to provide skilled, knowledgeable and socially responsive leadership for businesses and other institutions through an academically rigorous and pragmatic program in business management. The on-site MBA program offers flexibility in academic delivery for those organizations with employees who find it difficult to commit to traditionally offered course work.
"The MBA program is the final accomplishment in GAI's formal leadership development program and it sets us apart from many firms in the United States," Chief Human Resources Officer and MBA student David Mollish said. "Our contacts at Point Park were extremely accommodating, and understood GAI's business demands, our on-site needs and our multi-state learning environment."
For more information about the on-site MBA program, contact Deb Bateman, director of transfer and articulation at Point Park University, at 412.392.3433 or dbateman@pointpark.edu.