more news
Creative writing professor featured in PBS NewsHour Art Beat
Wednesday, February 9, 2011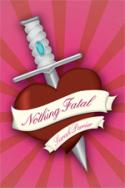 Point Park assistant professor Sarah Perrier is the featured poet on PBS NewsHour's Art Beat blog. The national public broadcasting's weekly poetry segment presents Perrier reading "Poem in Which I Fail to Appear" in a video taped at the Association of Writers & Writing Programs conference in Washington, D.C.
The poem is from Perrier's book "Nothing Fatal" (2010, University of Akron Press). She is also the author of the chapbook "Just One of Those Things" (2003, Kent State University Press). Perrier's poems have appeared in The Cincinnati Review, Cimarron Review, Hotel Amerika, the Journal, Pleiades and Mid-American Review. Her work has also been featured on Verse Daily.
The Association of Writers & Writing Programs is a national, nonprofit literary organization for teachers and writers. Perrier attended the AWP conference with Point Park assistant professor Karen Dwyer, who also teaches in the University's creative writing program.
Point Park offers undergraduate majors in both English and English/creative writing through the Department of Humanities and Human Sciences.