more news
End-of-Year Reception Celebrates Graduate Community at Point Park
Monday, May 5, 2014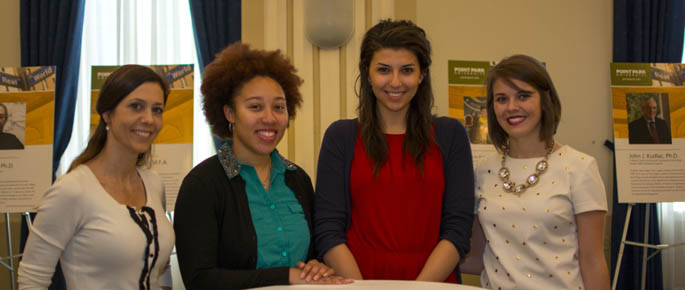 Graduate students across the University were recently invited to an end-of-year celebration with a keynote presentation from Samuel Hazo, Ph.D., founder and director of the International Poetry Forum in Pittsburgh and First Poet Laureate of Pennsylvania.
Hazo spoke about poetry, public speech and how art has the potential to unite all people. He also inspired the audience by reciting some of his award-winning poems on marriage, aging, war and the power of women.
"This event gave graduate students the opportunity to engage in collegial relationships they have developed with faculty and to benefit from a keynote presentation by someone who has reached the pinnacle of his profession because graduate education helps us to reach that pinnacle of excellence," remarked Helen Sobehart, D.A., executive director of graduate education.
At the reception, attendees enjoyed a variety of hors d'oeuvres and wine.

The following graduate students were asked what they enjoy most about Point Park.
"The professors are the main reason why I continued at Point Park. They are very experienced and knowledgeable," said Anna-Maria Boshkova, a native of Bulgaria who earned her B.S. in business management from Point Park and is currently pursuing an M.B.A. in global management and administration.
Boshkova is also the president of the Graduate Student Association at Point Park.

"Point Park's small class sizes allow for the professors to really get to know you personally," remarked Ashley Funkhouser, also an M.B.A. in global management and administration student. "Also, the Graduate Student Association has been great."
Taleesha Johnson, who is pursuing an M.B.A. degree with a concentration in sports, arts and entertainment management, also lauded the faculty. "The professors really care about you and know you by name," said Johnson, who serves as communications chair of the Graduate Student Association.
"I've learned a lot in my first year as a graduate student here at Point Park," said Elizabeth Veltre, an M.A. in Journalism and Mass Communication student. "The professors are great and I like that they have a lot of experience and work in the fields they teach."
Photos
Learn More
Point Park offers 17 graduate programs in some of today's most sought-after fields, including business, communication, criminal justice administration, education, engineering management, environmental studies and global security.

Photos by Chris Squier, senior photojournalism major
More About: global management and administration, graduate programs, M.B.A., M.A. in journalism and mass communication, student workshop