more news
Family Weekend 2012: Point Park students, families gather for fun in Pittsburgh
Thursday, November 15, 2012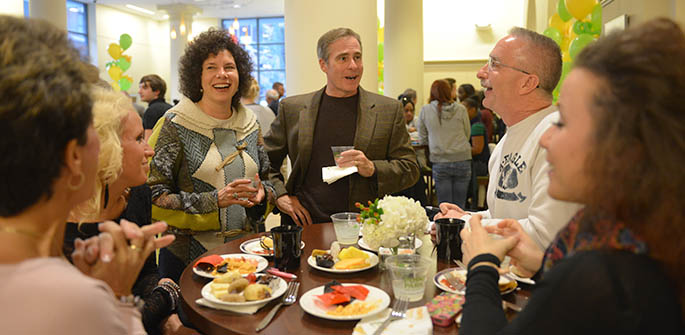 Point Park President Paul Hennigan and his wife, Colleen, talk with Point Park families at the President's Reception during Family Weekend 2012.
Chatting with the president. Enjoying a horse-drawn carriage ride around Downtown Pittsburgh. Taking in student performances, screenings and exhibits. Visiting the Carnegie Museums.
Nearly 500 Point Park students and their family members enjoyed all those activities and more during Family Weekend 2012, held Oct. 12-14 on campus and at various locations in the city of Pittsburgh. Some families traveled from as far as Texas and California to spend the weekend with their students for what is becoming a popular Point Park tradition.
A highlight of Family Weekend was the Friday evening President's Reception, where families met and talked with Point Park President Paul Hennigan and his wife, Colleen, and enjoyed hors d'oeuvres in the Lawrence Hall lobby.
Additional Family Weekend activities included:
Visits to the Carnegie Museums of Pittsburgh
Dance/Theater performances: "Night on Broadway"
Screening of student Films: "Night at the Movies"
Exhibit of student photography
Dessert reception
Sunday brunch in the Lawrence Hall Dining Room
Planning is already under way for next year's Family Weekend. We look forward to seeing you next fall!