more news
Frank Mason Exhibit Takes Permanent Place in Lawrence Hall Gallery
Friday, October 21, 2016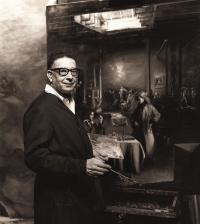 Photo courtesy of Studio Nine Inc.

Frank Mason works in Rome in 1966.
Point Park University's Lawrence Hall Gallery will be home to a permanent exhibit of works by Frank Mason, a noted artist and educator.
Mason, who was born in 1921 in Cleveland and died in 2009, began teaching at the Art Students League in 1951 and co-founded ArtWatch International in response to a controversial 1984 cleaning and restoration of Michelangelo's work in the Sistine Chapel.
His painting, the "Resurrection of Christ," can be seen in Old St. Patrick's Cathedral in New York. He received a commission in 1962 to for eight large paintings on the "Life of St. Anthony of Padua," to be permanently installed in the 11th Century Church of San Giovanni de Malta, in Venice.
The exhibit was organized by Jack Tomayko, a member of Point Park's Board of Trustees and CEO of the Tomayko Group, in cooperation with the Frank Mason Estate. Tomayko became familiar with Mason's work in the mid-1980s and, over the years, would buy pieces directly from Mason.
"He was a master painter," Tomayko said. "His work was compared to some of the great Italian painters, like Titian."
The exhibit will be unveiled from 6 to 7:30 p.m. Tues., Oct. 25, at the Lawrence Hall Gallery, Wood Street and Boulevard of the Allies.