more news
Highlights from the Spring 2013 issue of The Point
Wednesday, May 15, 2013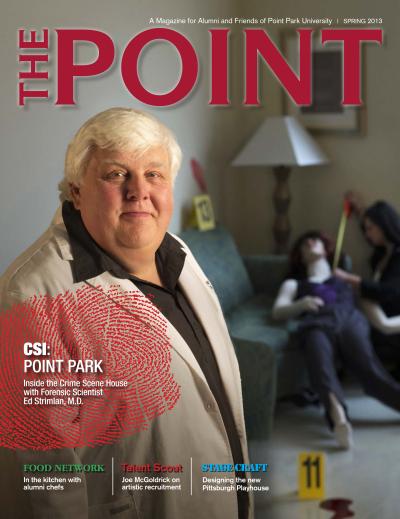 The Spring 2013 issue of The Point, the magazine for alumni and friends of Point Park University, is now available on campus and online.
Feature highlights and extras include:
CSI: Point Park: Go inside the Crime Scene House with forensic scientist Ed Strimlan, M.D., who uses the Academic Hall facility to teach students how to investigate crime scenes.
Stage Craft: President Paul Hennigan talks about the design process for Point Park's new Pittsburgh Playhouse, which will be an artistic laboratory in Downtown Pittsburgh.
Food Network: Meet Chef Chuck Kerber, Chef Cindy Komarinski and Chef Kevin Chen, three alumni who are stirring up the culinary scene in Pittsburgh and beyond.
Talent Scout: Alumnus Joe McGoldrick talks about his experience as director of artistic recruitment for the Conservatory of Performing Arts and his favorite role as alumni liaison.
Urban Spoon: Interns Alec Robertson and Zoe Sadler entice fellow students to try a taste of Osteria 100 in the Village Park.
Setting Goals: The men's soccer team had an outstanding season, reaching a national tournament with international roster of players who represent 14 countries.
Class Note
thepoint@pointpark.edu