more news
Highlights from the Winter 2013 issue of The Point
Tuesday, January 15, 2013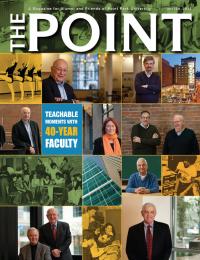 The Winter 2013 issue of The Point, the magazine for alumni and friends of Point Park University, is now available on campus and online.

Feature highlights and extras include:

Teachable Moments: 10 faculty members who have taught for 40 years or longer share insights and reflections on teaching, students and campus history.

College Try: The CITY Connections program enables high school graduates with autism and other disabilities to experience campus life at Point Park. Meet alumni Tim and Diane Hallahan and their son Sean, a student participant.

Behind the Scenes: Cinema and communications students and alumni participate in the making and promotion of the upcoming independent film, The Umbrella Man.

Sports Center: The Pittsburgh Center for Sports Media and Marketing, founded by Point Park alumni, connects students with sports industry professionals.

Serving Families: Alumna Marcia Sturdivant, Ph.D. teaches at Point Park and is deputy director of the Office of Children, Youth and Families in Allegheny County.

Hoop Dreams: the women's basketball team is making a mark on the court and in academic achievement.
Share your alumni news in a Class Note, or share your feedback and ideas at thepoint@pointpark.edu!