more news
Highlights from the Winter 2014 Issue of The Point
Wednesday, February 5, 2014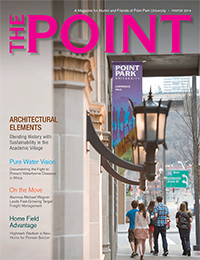 The Winter 2014 issue of The Point, the magazine for alumni and friends of Point Park University, is now available on campus and online.
Feature highlights and extras include:
Architectural Elements: blending history with sustainability in the Academic Village, including plans for the new Pittsburgh Playhouse.
Core Values: Point Park 2020 focuses on excellence in students' learning experiences, including the core curriculum.
On the Move: School of Business alumnus Mike Wagner founded fast-growing Target Freight Management.
Pure Water Vision: photojournalism professor Chris Rolinson documented the fight against waterborne diseases in Africa.
Home Field Advantage: Pioneer soccer teams enjoy great facilities and Downtown views at Highmark Stadium.
All the Best: the Pioneer Hall of Fame celebrates its 40th anniversary, learn how to nominate an alumni athlete.
Share your alumni news in a Class Note, or share your feedback and ideas at thepoint@pointpark.edu!