more news
Honors Program Students Make An Impact On and Off Campus
Wednesday, October 6, 2010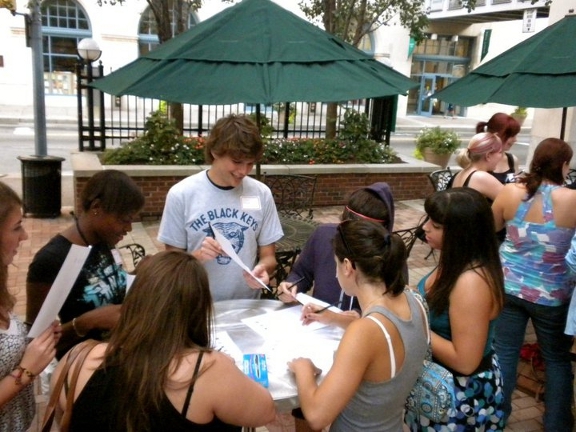 Students in Point Park's Honors Program wrapped up a month of welcoming activities for new and returning students by volunteering to stage a water station for Pittsburgh's Great Race in front of the University's new Student Center.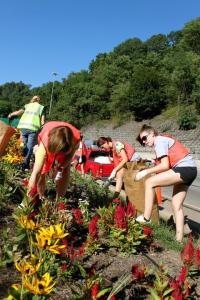 The Great Race, a Pittsburgh tradition with a record 14,000 runners this year, was the second community service endeavor this fall for the Honors Program and its Honors Student Organization. Earlier this semester, the students helped the Western Pennsylvania Conservancy beautify its site at the Fort Pitt Tunnels. Honors students also partnered with the student chapter of the Public Relations Society of America and the Point Park cross country team on volunteer projects.
At Point Park, the Honors Program provides a more academically challenging experience -- including the option of completing a thesis -- that requires students to complete 18 credits of honors classes to earn an honors certificate upon graduation. For the 2010-11 academic year, 235 students are in the Honors Program, including 82 incoming students and 25 returning students who are serving as mentors for the newcomers.
Through the Honors Student Organization, the students come together for community and leadership activities on and off campus. In addition to their volunteer work, honors students have attended a welcome picnic dinner, visited the Senator John Heinz History Center, and met with New York Times editor Dana Canedy, author of Point Park's summer reading selection, "A Journal for Jordan."
The Honors Program is led by Director Helen Fallon, a professor in the School of Communication, and Assistant Director Laura Frost, an associate professor in the School of Arts and Sciences.
To learn more, visit the Honors Program website or send questions to honorsprogram@pointpark.edu.
Written by Zoë Sadler
Photos by Camelia Montoy