more news
Honors Program students present academic work at conference
Friday, April 19, 2013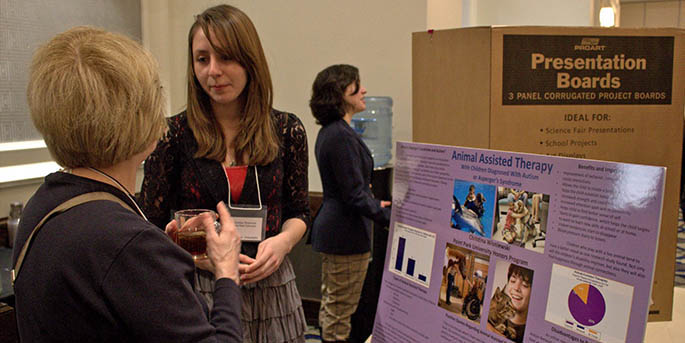 Point Park psychology major Christina Wisniewski explains her poster on Animal Assisted Therapy at the Northeast Regional Honors Council conference.
Six Point Park University Honors Program students presented their academic work in this year's Northeast Regional Honors Council conference in Philadelphia April 4-7.
The annual NRHC conference permits honors students to present their research and exchange ideas and information with others. The conference theme, "Life, Liberty, and the Pursuit of Happiness," was represented in the students' projects, papers, round-table discussions and presentations, as well as all conference activities.
The students and their work were:
Katie Potts, sophomore global cultural studies major, offered a round-table discussion about her research on Palestinian/Arab Immigrants in Philadelphia.
Isabella Alexandratos, senior English major, presented a paper titled "From Bank Notes to Burdens: India and England's Imperial Relationship in Detective Narratives."
Sara Payne, junior journalism major, presented a paper titled "Volunteering in the Midst of Life, Liberty and the Pursuit of Happiness."
Cornelia Bianca McLellan, senior elementary education major, and Brittani Brown, senior early education major, conducted a round-table discussion on Technology in Education - The New Pursuit for Success.
Christina Wisniewski, sophomore psychology major, created a poster reviewing her research on Animal Assisted Therapy for children diagnosed with autism or Asperger's syndrome.
Wisniewski thought attending the conference was worthwhile. "It was great to get input from other students and faculty members on my research and see what other students had come up with."
The students explored Philadelphia as part of the NRHC traditional "City as Text" activity among other scheduled events.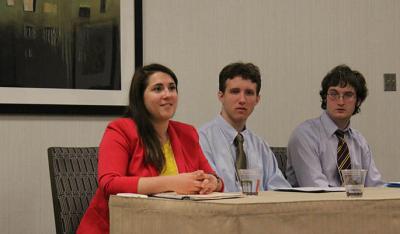 Honor Student Organization president and senior English major
Isabella Alexandratos answers a question about her paper.
Students split up into groups and visited different city squares or neighborhoods, touring Independence Hall, the Liberty Bell and Benjamin Franklin's grave among the historical sites. They later shared information collected with the entire group.
Potts said her favorite part was exploring the Reading Terminal Market. "It was great to see how the market has been preserved over time and still offered so many different cultural food experiences," she said.
The conference partnered with Philadelphia senior citizens from a writing workshop and nonprofit effort called "The Best Day of My Life So Far." The panelists answered participants' questions about what they found as well as their own lives and experiences.
"I really enjoyed the panel of senior citizens after our City as Text exploration," said Payne. "It was a nice wrap-up to hear their point of view on Philadelphia and its neighborhoods."
Next year's NRHC conference will be in Niagara Falls, N.Y., and Point Park's Honors Program director Helen Fallon is the conference chair. She is currently the NRHC vice president and will be president-elect in 2013-14.
Article by Justin Karter, graduate assistant, Honors Program