more news
Honors Student Studies, Explores and Photographs Grand Canyon
Wednesday, December 19, 2012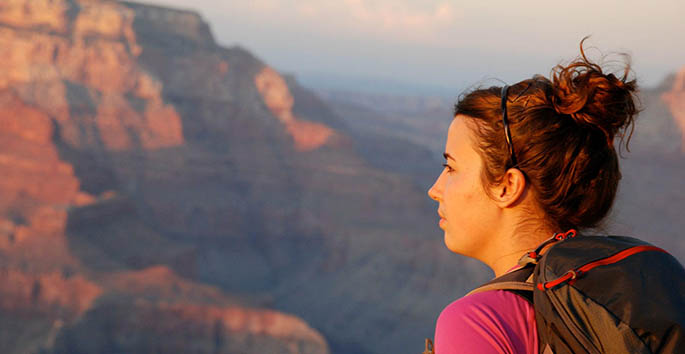 Photography major Madeline McKain looks out over the Grand Canyon during her semester there. See her photos.
As she prepared to travel to Arizona in August, Honors Program student Madeline McKain knew she was heading on another adventure.
McKain, a senior photography major, had elected to take 16 credits in a science-heavy curriculum through the Grand Canyon Honors Semester. Instead of spending her final semester on Point Park's urban campus, she would be hiking and living in the Colorado Plateau.
Related links
B.F.A. in Photography program
Point Park Honors Program
Request information
For McKain, 22, of Chicora, Butler County, the Grand Canyon program enabled her to analyze and see things in a different and more complete way. The National Collegiate Honors Council program for students at member institutions links traditional classroom education with real-life, experiential learning. McKain and 12 other students lived and took classes at Northern Arizona University.
The Grand Canyon Honors Semester is an integrated learning experience in the humanities and sciences that helps students understand environmental and social challenges. Previously McKain completed two NCHC Partners in the Parks summer programs.
Each week after classroom instruction, the students headed into the Grand Canyon wilderness. Once they spent four days working in a greenhouse on the south rim. They planted seeds and performed landscaping work, learning the park only uses seeds collected from within it because different species can become invasive. They studied how policies have developed while planting the next flora generation.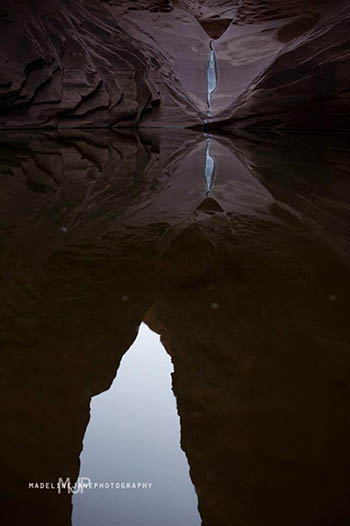 McKain spoke highly of an eight-day Colorado River rafting and boating trip. "After reading and being taught all about the history of the canyon and the different people who have lived there, we actually got to go down into the source of it and explore the remnants of these earlier civilizations," she said.
Helen Fallon, director of Point Park's Honors Program, suggested the opportunity to McKain. Then they reworked McKain's schedules so she could still graduate on time. "There was some hemming and hawing, but ultimately, I saw this as a once-in-a-lifetime opportunity," McKain said.
After cramming six classes into her spring schedule and finishing her honors photography thesis in the summer, McKain faced covering additional expenses. She won NCHC and Northeast Regional Honors Council scholarships and an award from a student travel fund named for Fallon's late husband, Dr. John E. Fallon Jr.

"Mrs. Fallon and the Honors Program were absolutely instrumental in making this happen," McKain said. "If I didn't have her helping me through this, I know that I wouldn't have been able to go. She was so adamant and tireless about making this work for me."
Fallon thought that McKain was the perfect candidate for the Grand Canyon semester. "It's a natural successor to her Partners in the Parks adventure and her career goals," she said.
McKain will visit Point Park in February to talk to students. This will follow another travel and photography adventure for her: a mission trip to Jamaica, where she will create a documentary while she builds houses in a remote village.
Article by Justin Karter, graduate assistant, Honors Program
Photos courtesy of Madeline McKain